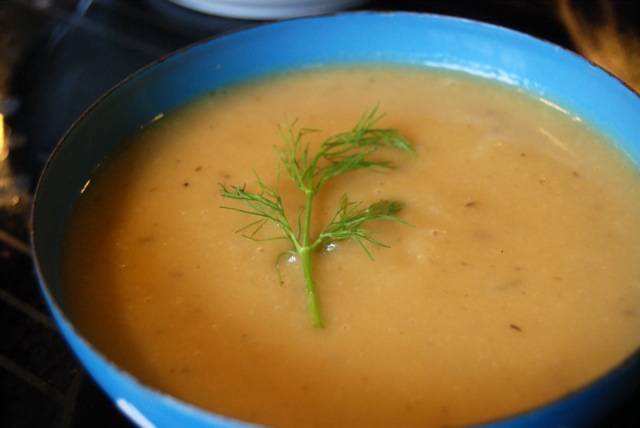 Who needs potpourri when there are vegetables to roast? Seriously! This soup will make your house smell absolutely divine AND produce one of the tastiest low sodium soups ever. For those afraid of garlic, no fear! The garlic is roasted to a caramelized perfection, rendering it soft and seductive. And the fennel.. oh my. If you're averse to anise, please do yourself a favor and try it here. The licorice-like flavor is so subtle, lending just a hint of the exotic without overpowering. And who doesn't like potatoes? No one. If you don't have fresh thyme, feel free to substitute dried. Either will work wonderfully. ENJOY!
Adapted from the American Medical Association Healthy Heart Cookbook.
Yields 4 servings.
SODIUM CONTENT: 105 mg per serving
INGREDIENTS:
1 head garlic
1 fennel bulb
1 lb. Yukon gold (or other) potatoes
1 T. olive oil
freshly ground black pepper to taste
1 qt. (4 c.) low sodium chicken or vegetable broth
1 t. chopped fresh thyme (or 1/2 t. dried)
DIRECTIONS:
Preheat the oven to 425 degrees. Get out a shallow roasting pan and set aside.
Peel the entire head of garlic and each of the individual cloves. Place peeled cloves in a mixing bowl; set aside.
Trim the fennel bulb, removing all of the green top, as well as the tough core. Set the green aside for garnish, if desired. Cut the bulb into 1/2-inch slices, then cut the slices into chunks. Place the chunks into the mixing bowl with the garlic; set aside.
Peel the potatoes, then cut into 1-inch chunks. Place the potatoes into the mixing bowl. Add the tablespoon of olive oil and toss well to coat. Spread the vegetables onto the roasting pan. Season with freshly ground black pepper to taste. Place the pan on the middle rack in the oven and roast for 25 minutes, stirring once halfway through the cooking time.
Measure the broth and thyme into a small stockpot and bring to a boil over high heat.
Remove the pan from the oven, and once the broth is boiling, add the roasted vegetables to the pot. Reduce heat to low, cover and simmer 10 minutes.
Remove pot from heat. Using an immersion blender, regular blender or food processor, puree the soup. If transferring the soup to a blender or food processor, do this in several small batches to minimize mess and maximize smoothness. Transfer pureed soup to serving bowls and serve immediately, garnished with fennel greens, if desired.