My family and I have been going a bit crackers the past week. Not only for the delicious snacks above (which, trust me, are delicious), but over a seriously unexpected turn of events.
Early last Monday, I received a phone call alerting me that my younger daughter's school had caught fire overnight. The fire gutted 3 classrooms and left the remainder of the school flooded in inches of water. Classes were cancelled all last week. On Monday we toured a new temporary facility where classes have finally resumed, but officials still aren't certain when the school will reopen again. Sort of like a box of animal crackers, it's been exciting and unpredictable; reach your hand in, you just don't know what you'll pull out!
Hence today's low-sodium star: Trader Joe's Organic Animal Crackers! Not only will they keep you guessing (which one will I get???), but they're also GOOD for you! Organic, low in sodium, and VEGAN (oh yes). At a mere 100 mg sodium per serving — and a serving is seventeen whole crackers, not a measly 4 or 5 — you can afford to indulge. And at just $3.49 per tub, they're an acceptable indulgence for the wallet, too. Woo hoo!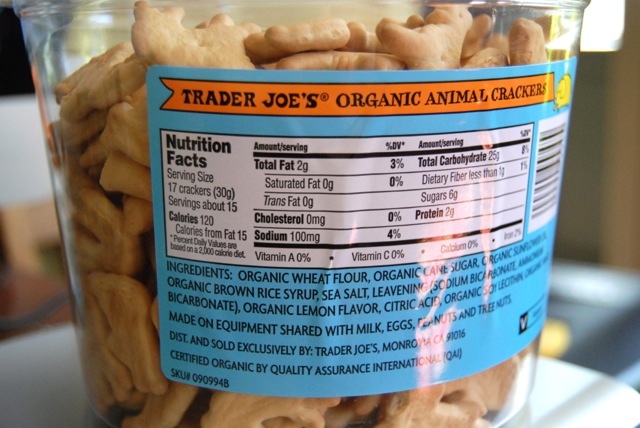 If you don't have a Trader Joe's near you, do yourself a favor and write to request a location! When my family and I first moved to Portland, we too were Trader Joe's – less, but NO MORE. I cannot say how wonderful the store is and how much it means to have a location nearby. Keep petitioning!
Last, if anyone is interested in supporting my daughter's public school, they could REALLY use your help. The PTO is trying to raise money through the Close Buy Catalog. This catalog rocks! It's seriously like coming to Portland for a shopping spree, all from the comfort of your couch. All the of the products are made by local businesses in Maine, VT, NH & MA. If you see anything you'd like to order, at checkout select HALL SCHOOL PTO as the "organization to support." Thanks so very much for your consideration!