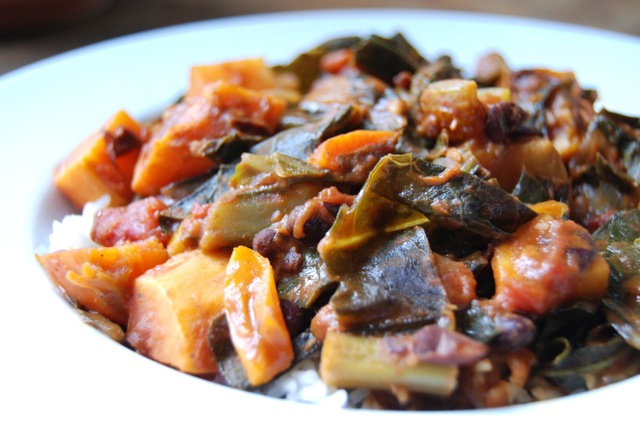 My younger daughter returned to school last week just in time for me to prepare for her 9th birthday party. We celebrated this weekend with a sleepover, which left little time for regular cooking. I threw this dish together Friday and was so taken with the results that I made the same thing again the next night. My husband and I simply couldn't get enough of the mix of flavors. Subtle sweetness from the light coconut milk, sweet potatoes, carrots and tomatoes bathes the collards and a light citrus kick from the lime juice and curry paste lends the perfect finish. The combination is so seriously stupendous, you won't believe it's low sodium!
If you like SPICE, take it up a notch by adding a fresh minced hot chile to the mix, a dash of cayenne, chili powder, or some dried red pepper flakes. My husband was liberally dousing his with Sriracha, but for the love of my daughters, I left the fire out. It was my youngest's birthday, after all. LOL
If you've never been a fan of collard greens, this dish will change (read: blow) your mind. And that's truly a great thing. Because not only are collards high in fiber, Vitamin A, Vitamin C, and calcium, they're also considered to be the very best of the cruciferous clan for naturally lowering blood pressure AND they also protect against cancer.
Love your body, love your collards! 🙂
A quick reminder about Thai Red Curry Paste. Although this product does contain salt, when used sparingly it lends tremendous depth of flavor while still keeping dishes low in sodium. I use Thai Kitchen Red Curry Paste, which is readily sold in many supermarkets nationwide. It contains 390 mg sodium per tablespoon; the lowest I've found. Sue Tweeton of Please, DON'T Pass the Salt also recommends World Foods – Fusion of Flavors Red Curry Paste; unfortunately I've yet to find it locally. Know another brand? Let me know! Thanks!
Serves 8
SODIUM CONTENT: 96 mg per serving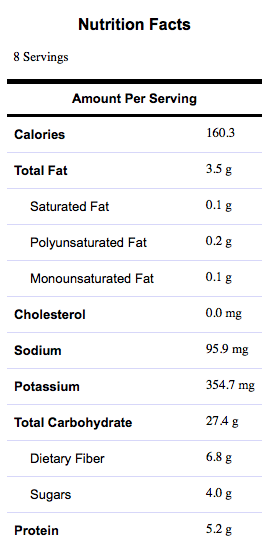 INGREDIENTS
1 T. olive oil (optional, see note below)
1 medium onion, chopped
4 cloves garlic, minced
2 medium carrots, sliced
2 medium stalks celery, sliced
1 medium sweet bell pepper (red, orange, or yellow), diced
2 medium sweet potatoes, peeled and cubed
1 lb. collard greens, chopped
1-15-oz. can no-salt-added diced tomatoes (with juice)
1-15-oz. can light coconut milk, shaken well
1-15-oz. can no-salt-added black beans, drained and rinsed
4 T. no-salt-added tomato paste
1 T. Thai Red Curry Paste (see note above)
juice of 2 fresh limes
1 1/2 teaspoons ground cumin
1 1/2 teaspoons ground sweet paprika
1/4 teaspoon ground allspice
freshly ground black pepper to taste
DIRECTIONS
Measure the olive oil into a stockpot – OR IF YOU PREFER LOWER FAT WHICH YOU KNOW YOU SHOULD (!) – coat bottom of pan with a thin layer of water or low-sodium vegetable broth. Place pot over medium heat. Add the onion, garlic, carrots, celery, bell pepper, and sweet potato and saute 2-3 minutes.
Add the remaining ingredients and stir well to combine. Cover and simmer over medium heat, stirring frequently, 10 minutes. After the first 10 minutes, reduce heat to med-low / low, and continue to simmer, stirring frequently, 5-10 minutes more. Keep checking to make sure the mixture isn't cooking too fast or beginning to stick and burn. Dish is ready when the sweet potatoes are fork tender.
Remove from heat and serve immediately. This tastes amazing served over rice, quinoa, or your favorite whole grain. ENJOY!