Good morning, everyone! For the sake of those tired of Thanksgiving leftovers, I'll be brief with my round-up of last week's feast before proceeding onto today's recipe. Two words: IT ROCKED. The end.
LOL
Seriously though, my family and I all agreed that our first vegan/low-sodium/Turkey-less Turkey Day was without exception, exceptional.  None of us missed the meat – even my youngest, the die-hard bacon-ista, declared it our best holiday yet.  The homemade Hickory Smoked Vegan Turkey (pics and recipe to come) made an outstanding addition to the other mostly-traditional sides, like Mashed Maple Sweet Potatoes, Orange Cranberry Sauce, and Savory Holiday Stuffing.  But perhaps the biggest winner among all the dishes, especially with my two daughters, was the recipe I'm sharing today: Lemon Pesto Rice with Portabello Mushrooms.
I've made many iterations of this dish over the years, and there's even a version in the new Everything DASH Diet Cookbook.  But most pesto sauces (including the low-sodium version from my cookbook) contain Parmesan cheese – something strictly verboten on our vegan diet.  So what's a gal to do?  Get crafty!  Here that creamy-salty-something comes in the form of pureed almonds, lemon, mustard, olive oil, and a sprinkling of nutritional yeast flakes.  If you're thinking thanks but no thanks, don't let the ingredients fool you. This pesto is SERIOUSLY GOOD STUFF. The sauce is a tweaked version of Dreena Burton's "Lemony Cashew-Basil Pesto," truly amazing in its own right, but (IMHO) even better with the complimentary tastes of sauteed onion, meaty mushrooms, and hearty brown rice. Oh yesssss.
I've talked about nutritional yeast flakes before. I will say it again. Worst. Name. Ever. Nutritional yeast is a form of inactive yeast with a mild nutty cheesy flavor. Completely vegan and super duper good for you, it's a great source of B vitamins as well as a low-sodium dieter's best friend. Add it to salt-free seasoning for a POW! right in the kisser. Sprinkle it on everything from salads to pasta to you-name-it. You will LOVE LOVE LOVE the amazing flavor it imparts to the most ordinary foods, and if you're not already a fan I guarantee you will be. Nutritional yeast can be purchased online, from many health food stores, and with the rising popularity of plant-based diets, now even some supermarkets. It's sold under a couple big brand names, Red Star and Bragg being the biggest. I like both. You can buy it in canisters for easy sprinkling and also in bulk. Do like I do and buy it in bulk – so much cheaper – you can store it in an old-timey glass sugar jar for easy pouring. Either way, it's all good!
NOTE: This recipe also works wonderfully with cooked pasta, quinoa, and other grains, so if you're not a huge rice fan, don't let that dissuade you.  If you're out of almonds, feel free to substitute walnuts, cashews, or pine nuts. The important thing is to TRY THIS RECIPE.  Seriously! It is SO GOOD. The level of salt-free flavor's.. well, it's out of this world.  One taste and you'll be hooked.  So quit stalling! Get out life's lemons and start squeezing.

Serves 6 (large main dish portions)
SODIUM CONTENT: 6 mg per serving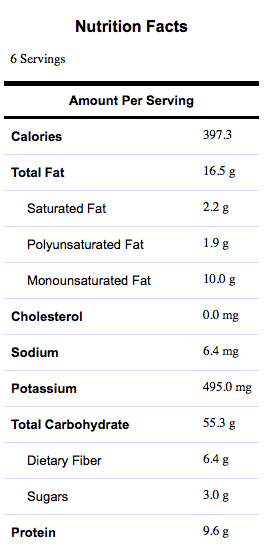 INGREDIENTS
Lemon Pesto:
juice of 2 fresh lemons
6 cloves garlic
1 1/2 T. olive oil
1 1/2 t. agave nectar
1/2 t. no-salt-added stoneground mustard
1/3 c. unsalted almonds
1/3 c. fresh basil leaves
1 t. salt-free all-purpose seasoning
freshly ground black pepper to taste
1 T. olive oil
1 large onion, chopped
16 oz. baby bella mushrooms, chopped
6 c. cooked rice (can sub. pasta, quinoa, or other grain)
2 T. nutritional yeast flakes
freshly ground black pepper to taste
DIRECTIONS
Measure pesto ingredients into a blender or food processor and pulse until smooth. Set aside.
Heat olive oil in a stockpot over medium. Add chopped onion and mushrooms and cook, stirring, 10 minutes. Remove from heat.
Add cooked rice (or equivalent), pesto, nutritional yeast flakes and black pepper to taste. Stir well to combine. Serve immediately.