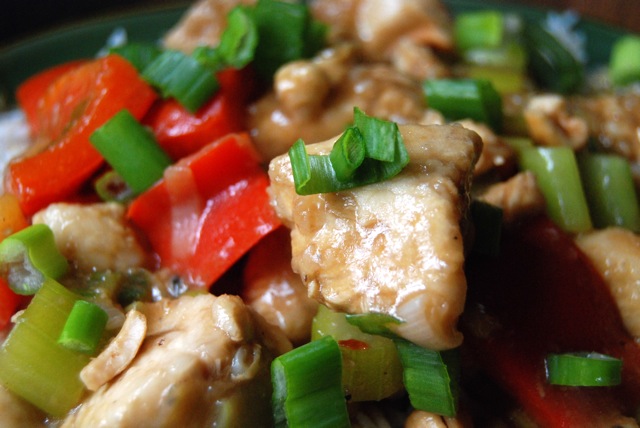 If you thought you'd taken your last bite of truly authentic-tasting Chinese takeout when you gave up salt, think again.  This Low Sodium Kung Pao Chicken isn't just okay.  It's not meh, so-so, ho-hum. NO!  It's fan-freaking-tastic!  Don't believe me?  TRY IT.  The spicy bite of ginger, the tang of rice wine vinegar, the smokey depth of sesame oil, and YES – that certain indescribable SOMETHING that says I am Chinese takeout – it's all there! I swear, if you put this in one of those white flap-top boxes, you'd never know the difference.  I adapted this recipe from Fine Cooking, substituting Faux Soy Sauce for the verboten real-deal.  If you've never used this Faux concoction before, just wait till you TASTE its marvelous effect!!  On its own it won't pass for soy sauce, though it shares the same deep dark look. But once added into a recipe it melds with the other flavors to produce the most remarkable fake-out ever! When making Faux Soy Sauce, look for the lowest-sodium molasses you can find. I use either Grandma's Molasses or another I've found since moving to Maine called Crosby's. Both are very low in sodium. If you can't locate either, check labels carefully before purchase. The sodium-free beef bouillon granules are located alongside commercial bouillon cubes in the soup aisle of most supermarkets.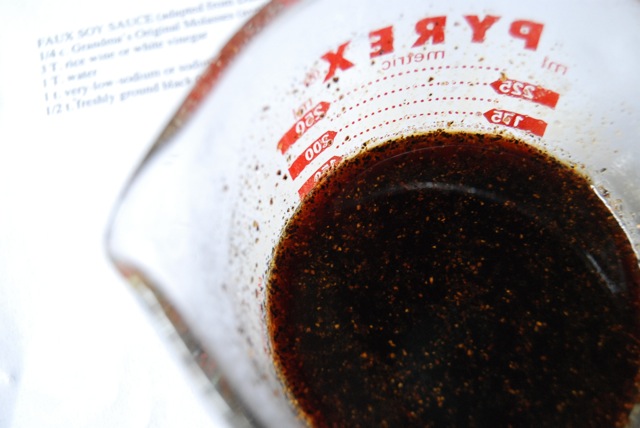 Yields 4 servings.
SODIUM CONTENT: 150 mg per serving
INGREDIENTS:
3/4 c. low-salt chicken broth
2 T. faux soy sauce (recipe below makes ~1/2 c. refrigerate extra for another use)
1 T. balsamic vinegar
1/4 c. plus 1 T. cornstarch
2 t. toasted sesame oil
1 t. sugar
1-1/2 lb. boneless, skinless chicken breasts, cut into 1-1/2-inch pieces
freshly ground black pepper to taste
4 T. vegetable oil, divided
1/8 – 1/2 t. dried red pepper flakes, to taste
2 T. minced fresh ginger
6 scallions, thinly sliced, whites and greens kept separate
1 medium red bell pepper, seeded and cut into 1-inch pieces
2 inner ribs celery, cut crosswise 1/2 inch thick
1/4 c. rice wine vinegar (natural, unflavored)
1/4 c. coarsely chopped unsalted cashews or peanuts
FAUX SOY SAUCE (adapted from Dick Logue's Soy Sauce Substitute)
1/4 c. molasses
3 T. rice wine vinegar
1 T. water
1 t. low-sodium or sodium-free beef bouillon granules
1/2 t. freshly ground black pepper
DIRECTIONS:
Measure the chicken broth, 2 T. faux soy sauce, balsamic vinegar, 1 T. of the cornstarch, sesame oil and sugar into a small mixing bowl. Whisk well to combine; set aside.
Place the chicken pieces into a large bowl, add the 1/4 c. cornstarch & freshly ground black pepper to taste and toss well to coat (use tongs, it gets messy).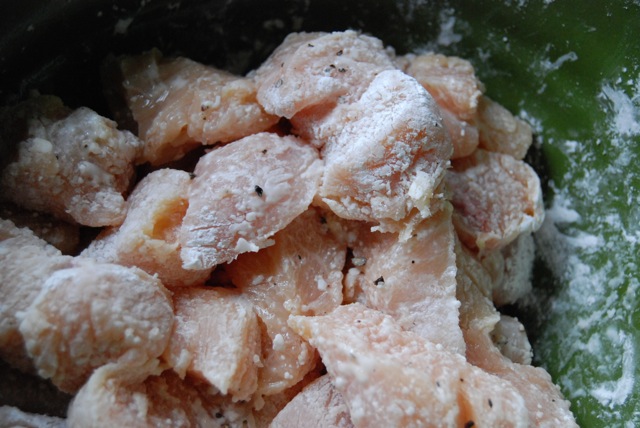 Heat 3 T. vegetable oil in a large heavy-duty skillet over medium-high heat. Once hot, add the chicken and cook, flipping after 2 minutes, until it's lightly browned on two sides, roughly 4-5 minutes.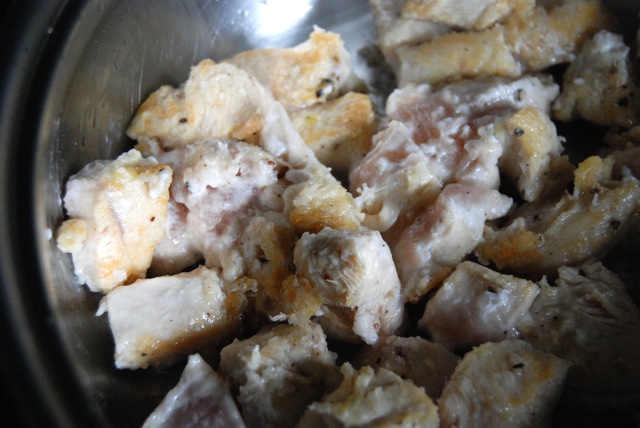 Add the remaining tablespoon vegetable oil to the skillet. Add the desired amount of red pepper flakes, ginger and whites of the scallions and cook, stirring, 1 minute. Add the red bell pepper and celery and cook, stirring, until they soften slightly, about 2 minutes. Add the rice vinegar and cook until it almost completely reduces, 30 seconds to a minute, scraping the bottom of the pan to incorporate any browned bits. Give the chicken broth mixture a quick whisk, then add to the pan. The sauce should immediately thicken.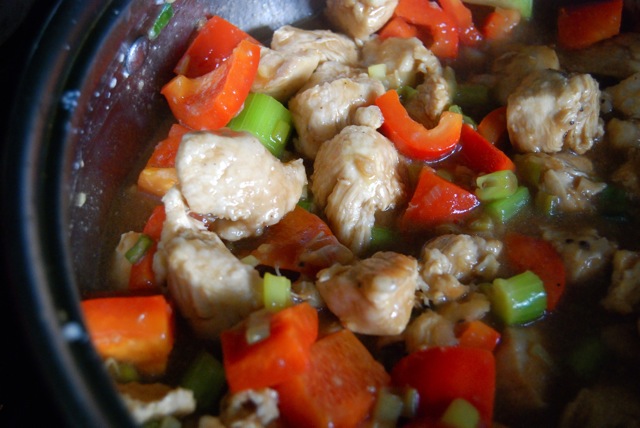 Slice into one of the thicker pieces of chicken to see if it's cooked through. If still pink, reduce heat and cook a couple minutes more. Remove pan from heat and serve immediately, ­sprinkled with the chopped nuts and scallion greens.