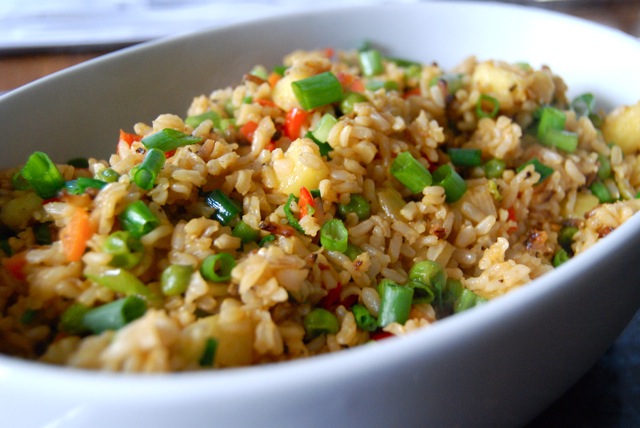 Good morning and Happy Meatless Monday!
Spicy, fun, even a little decadent, Pineapple Fried Rice is the perfect day-before-Valentine's-Day meal. Â AÂ delicious combination of sweet and savory flavors, soft & chewy textures, made even better through the use of brown (versus white) rice. Â It's perfect as is, but for a heftier one-dish vegetarian meal, feel free to add some scrambled egg or cubed tofu.
To keep this acceptably low in sodium, you'll need the lowest-sodium soy sauce you can find.  I recommend either House of Tsang Less Sodium Soy Sauce (320 mg sodium per tablespoon) or Angostura Lite Soy Sauce (330 mg).  Both are readily sold in supermarkets and available for purchase online from Healthy Heart Market.  In a pinch you can also use Bragg Liquid Aminos – which I personally adore, though it's higher in sodium that the other two products.
Contemplating what to cook for Valentine's Day??  Make Pineapple Fried Rice as part of a "Chinese Take-Out" themed dinner.  It's scrumptious with low-sodium Spicy Sweet-and-Sour Chicken, Kung Pao Chicken, Beef with Pea Pods, and/or Stir Fried Bok Choy (in the Recipe Index!)  PS: Don't forget the fortune cookies!
Recipe courtesy of Vegetarian Times, January/February 2012.
Serves 6.
SODIUM CONTENT: Â 170 mg per serving
INGREDIENTS
2 1/4 c. low-sodium vegetable broth, divided
1 c. long-grain brown rice, rinsed well
1 1/4 c. diced fresh pineapple, divided
1 T. low-sodium soy sauce (see recommendations above)
1/2 t. dried red pepper flakes
2 T. sesame oil
1/2 c. diced onion
6 cloves garlic, minced (2 T.)
1 small carrot, peeled & finely diced (1/2 c.)
1/2 c. frozen peas
1/2 c. finely diced red bell pepper
5 scallions, thinly sliced (1/3 c.)
DIRECTIONS
Measure 2 cups of the broth and all of the rice into a saucepan. Place pan over medium heat and bring to a boil. Once boiling, reduce heat to medium-low, cover, and simmer 40 minutes until tender.
Measure 1/2 cup pineapple, remaining 1/4 cup broth, Bragg Liquid Aminos and red pepper flakes into a food processor or blender. Pulse until smooth. Set aside.
Heat oil in a large skillet or saute pan over medium heat. Add the onion and garlic and saute 3 minutes. Add the carrots, peas and red bell pepper and cook, stirring, 2-3 minutes. Add the remaining 3/4 cup pineapple and saute 2-3 minutes. Add the cooked rice to the pan and stir to combine. Saute 2 minutes, then add the blended pineapple mixture. Cook, stirring, 3 minutes, until all of the liquid is absorbed.
Remove from heat. Stir in the scallions and serve immediately.