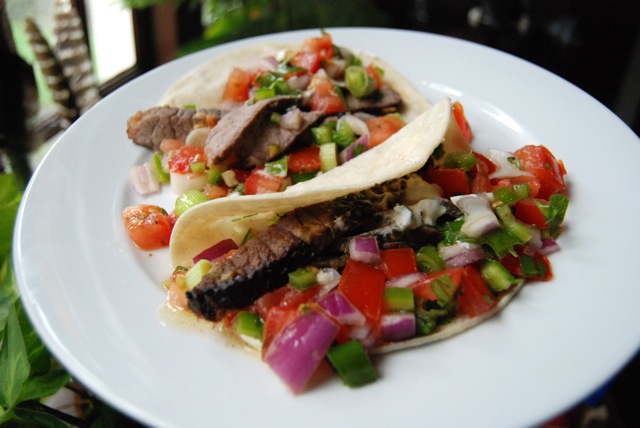 Happy Cinco de Mayo, everyone! As my younger daughter kindly reminded me this morning, Cinco de Mayo is NOT Mexican Independence Day, but a celebration of Mexican defeat over the French in a battle ending May 5, 1862. I am proud of the fact that she knows far more than I, but also a bit embarrassed. I mean, she is SEVEN after all. (Sigh…) And in another strange twist of fate (as these things often go) Cinco de Mayo is perhaps more widely celebrated here in the US than in its country of origin. Americans, always looking for an excuse to party! Thankfully the Food Network knows how to PAR-TAY and today's adapted recipe suits the occasion perfectly. The flank & skirt steak are delicious cuts of beef, lean but flavorful. The only downside? They're pretty expensive. The budget conscious momma in me took over, thankfully, and a quick word with my friendly local butcher found a tasty, cost effective alternative in bottom round. Further proof, it's always good to ask. So get ready for a super low sodium fiesta! ENJOY!
Yields 16 tacos.
SODIUM CONTENT: 53 mg per taco served w/ ample Pico de Gallo
INGREDIENTS:
Mojo:
4 garlic cloves, minced
1 jalapeno, seeded (if desired) and minced
1 large handful fresh cilantro leaves, finely chopped
Freshly ground black pepper to taste
2 limes, juiced
1 orange, juiced
2 T. white vinegar
1/2 c. olive oil
2 pounds flank or skirt steak, trimmed of excess fat
Olive oil, for coating the grill
Freshly ground black pepper to taste
Pico de Gallo:
4 vine-ripe tomatoes, cored and chopped
1/2 medium red onion, chopped
2 green onions, white and green parts, sliced
1 Serrano chile, seeded (if desired) and minced
1 handful fresh cilantro leaves, chopped
3 garlic cloves, minced
1 lime, juiced
1/4 c. extra-virgin olive oil
16 (7-inch) corn tortillas
DIRECTIONS:
First make the mojo. In a mortar and pestle or bowl, mash together the garlic, jalapeno, cilantro and freshly ground black pepper to taste. Transfer to a mixing bowl and add the lime juice, orange juice, vinegar, and oil. Whisk vigorously to combine.
Place the steak/s in a large 9 x 13-inch baking dish and pour the mojo over top. Cover with plastic wrap and place in the refrigerator to marinate. Let the meat steep from 1 to 8 hours, but NO MORE than that or the meat will start to break down and turn to mush! UGH.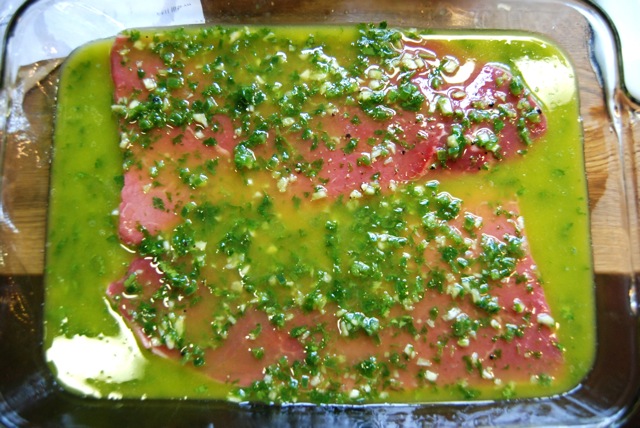 Preheat an outdoor grill, ridged grill pan over medium-high flame, or your oven broiler. If using a grill or grill pan, brush the grates/pan with a little oil to prevent the meat from sticking. Pull the steak out of the mojo marinade and season both sides with freshly ground black pepper. Grill (or broil) the steak for roughly 7-10 minutes per side, turning once. Remove the steak to a cutting board and let rest 5 minutes to allow the juices to settle. Thinly slice the steak across the grain on a diagonal.
To make the Pico de Gallo, combine all ingredients in a mixing bowl and stir well to combine. Let sit at least 15 minutes to allow the flavors to marry.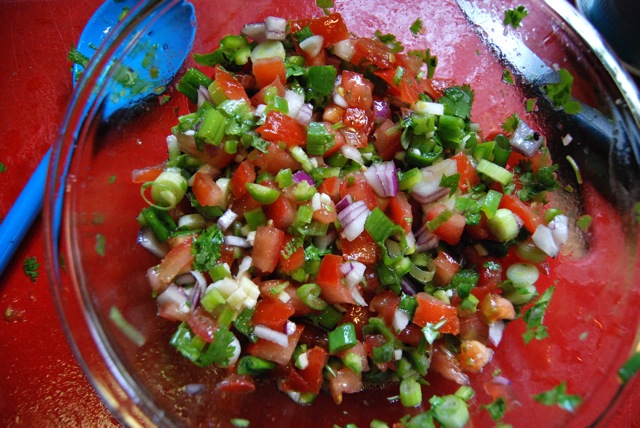 Just before serving, warm the tortillas for 30 seconds per side in a dry skillet or on the grill, until toasty and pliable.
To make the tacos, lay slices of beef down the center of each tortilla and top with a generous spoonful of the Pico de Gallo salsa. Repeat with the remaining tortillas. Serve immediately, garnished with sour cream, if desired.