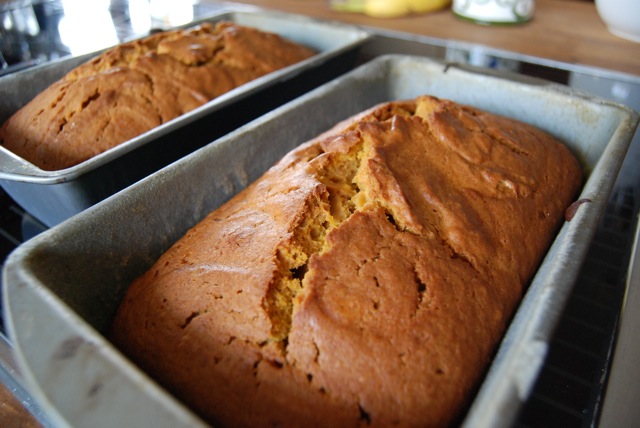 Dick Logue has done it again. The genius behind Low Sodium Cooking.com has made me HAPPY to be living salt-free!!
I used to bake pumpkin bread all the time. Moist, delicious, simply perfection in a quick bread, people would gobble it up and beg for more. Enter Meniere's Disease. My tried-and-true recipe for pumpkin bread calls for standard (read: high in sodium) baking soda. I've tried tweaking it countless times, substituting either Ener-G sodium-free baking soda, Featherweight sodium-free baking powder or BOTH. But I've never been able to get the ratio right.  Here's my last attempt (with fresh cranberries):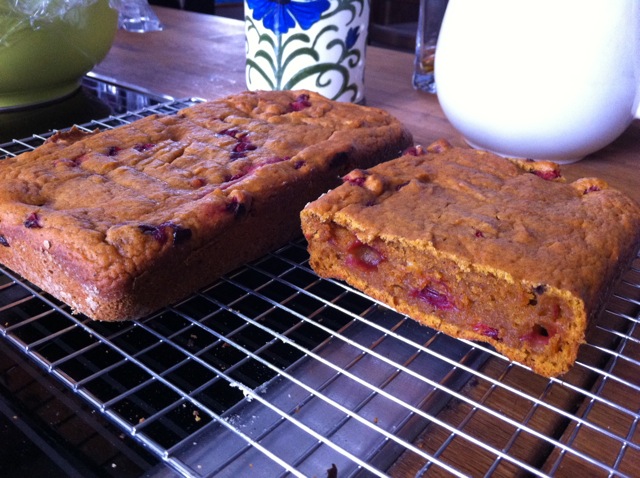 Whereas my "old" pumpkin bread used to rise like the clouds, these loaves were like sinkholes.  No one wanted to eat it, not even the chickens!
A month ago I put the call out on Facebook, asking whether anyone had had success with low-sodium pumpkin bread.  Johanna of Low Sodium Blog.com responded right away, suggesting I try Dick Logue's recipe. I clicked it and checked it out. It looked very similar to my tried-and-true recipe and I got excited.  I just needed more pumpkin.  THE VERY NEXT DAY (I kid you not) I came upon the sweetest deal ever at BJs. If you're on The Daily Dish Facebook page, you likely saw the photograph, but for those who missed it:
3 jumbo cans of pumpkin for 99 CENTS!  It's safe to say the "Great Pumpkin Shortage" of 2010 is over!  At least at my house!  I bought 4 cases and drove home GRINNING LIKE A MADWOMAN..
As soon as I got home, I whipped out my mixer and got baking!!  And oooooooohhhhhh the sweetness…….
Dick Logue has crafted a Low-Sodium Pumpkin Bread every bit as tasty as the one I used to enjoy.  Moist, with a crisp crust and the faint scent of cinnamon and ginger, this bread is the BOMB.  The recipe comes together in mere minutes, bakes up in an hour and a half, and will leave your whole house smelling like heaven.  Speaking of which, thank heavens for all this pumpkin.  I've got enough for 84 more loaves!!!
Yields 2 loaves; Serves 24.
SODIUM CONTENT: 13 mg per serving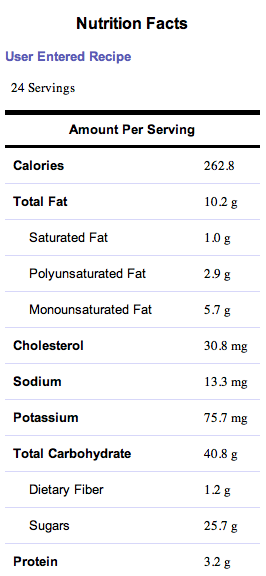 INGREDIENTS
3 c. sugar
1 c. vegetable oil
4 eggs (or 1 c. egg substitute)
16 oz. (2 c.) pumpkin puree
3 1/2 c. flour
1 t. Featherweight sodium-free baking powder
4 t. Ener-G sodium-free baking soda
2 t. ground cinnamon
1 t. ground ginger
2/3 c. water
DIRECTIONS
Preheat oven to 350 degrees.  Get out two 9 x 5-inch loaf pans.  Grease and flour pans, then set aside.
Measure the sugar and oil into a large mixing bowl and stir well to combine.  Add the eggs and pumpkin puree and stir.
In another bowl, sift together the flour, baking soda, baking powder, ground cinnamon and ginger.
Add the dry ingredients to the pumpkin mixture, a little at a time, alternating with the water.  Stir until well combined.
Pour batter into prepared pans, dividing evenly.  Place pans on middle rack in oven and bake 1 1/2 hours, until a tester inserted into the center of each loaf comes clean.  Remove pans from oven and place on wire rack.  Let stand for 10 minutes.  Remove bread from pans and place on wire rack to cool.