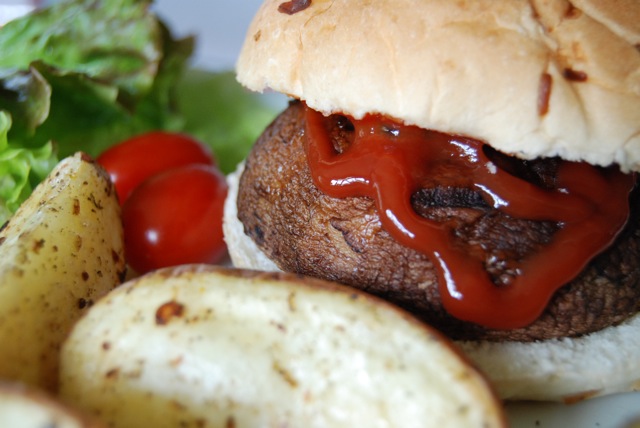 With Father's Day fast approaching (it's Sunday my friends, be sure to get those cards in the mail!) I wanted this week's Meatless Monday to showcase an all-American favorite. BURGERS! Nothing satisfies a manly hunger better than burgers and fries. And today's recipe proves you don't need meat to make the best burgers of your life.
Portabella mushrooms are nature's veggie burgers. Thick and perfect, patty-shaped, they're even brown, for pete's sake! When grilled, these large mushroom caps take on a great barbeque flavor and their meaty heft becomes tender and indescribably juicy. Sandwiched in a bun with all your favorite toppings, you won't miss the meat. Besides their fabulous taste, portabella mushrooms are incredibly low in sodium, averaging a mere 10 milligrams or less per cap. Grill time will vary depending upon the size of the mushrooms; for jumbo mushrooms you may need to grill 10 minutes per side, whereas smaller caps may cook in half that time. Use common sense. You want the caps to release some of their juice, soften and tenderize – you don't want them falling apart or charred beyond recognition!
Oven-baked fries are every bit as satisfying and delicious as those deep fried in oil, but they're even better, because they're also FAT FREE! Which means you can eat as many of them as you want and not gain a pound. Your skin will glow like a scrubbed potato. And you won't need help getting out of your chair after dinner. If you're a real fry junkie, add a couple extra potatoes to the mix. I used red bliss because I've been on a red potato kick lately, but truly any potatoes work well here. If your dad's a real patriot, might I'd suggest the full-out all-American meal? Meaty Portabella Burgers with Red, White, and Blue Fries!
Serves 4.
SODIUM CONTENT: 18 mg per serving
INGREDIENTS
4 large portabella mushroom caps (~3 oz. each)
4 medium potatoes
1 1/2 t. all-purpose salt-free seasoning
DIRECTIONS
Preheat oven to 450 degrees. Spray a baking sheet lightly with oil and set aside.
Scrub potatoes and slice each into 6 equal wedges. Places wedges into a mixing bowl, add seasoning, and toss well to coat.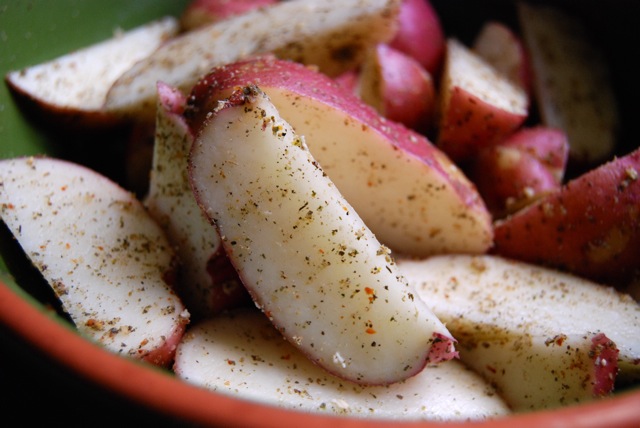 Arrange wedges cut side down on the prepared baking sheet. Place sheet on middle rack in oven and bake 15 minutes. Remove sheet from oven and gently flip wedges onto the second cut side. Return to middle rack in oven and bake another 15-20 minutes, until golden brown and tender.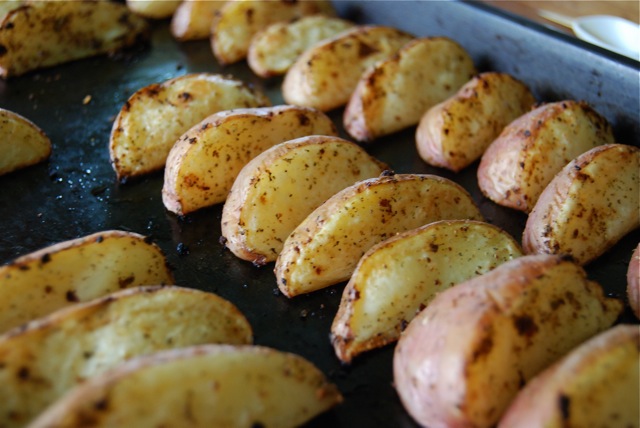 Preheat grill to medium. Lightly spray mushroom caps with oil and place cap side (flat side) down onto the grill. Lower lid and grill 5-10 minutes. Flip mushrooms onto the gill side. Lower lid and grill another 5-10 minutes. Remove from grill.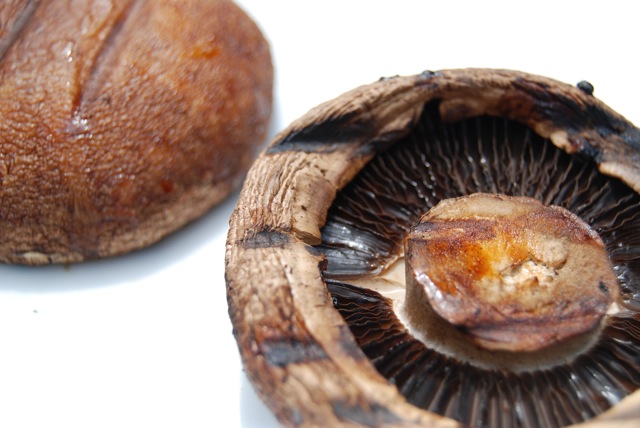 Sandwich mushroom caps between buns if desired and garnish with your choice of condiments. Plate alongside fries and serve immediately.