Before going vegan I had a long-standing love affair with yogurt, specifically Stonyfield Organic. My intense devotion to this particular product was one of the reasons I wondered whether I could give up dairy. In the back of my mind I remembered Stonyfield made a soy yogurt, so I decided to give it a whirl.  Verdict?  OH MY!  Stonyfield's O'Soy Organic Yogurt was everything I loved in their regular yogurt and more.  Only problem?  Stonyfield's O'Soy actually contains…. MILK.  From their website:
While we don't add any milk to O'Soy, the reason for the "CONTAINS…MILK" statement is that the cultures we use in O'Soy are grown in milk by our culture supplier. The overall milk content of O'Soy is extremely low, and it's in the form of milk protein. 
After reading The China Study and discovering the truth about casein, the largest protein in cow's milk, I decided YES, I COULD LIVE WITHOUT STONYFIELD.  But after my once-passionate love affair had soured forever (pun intended), where was this yogurt-loving gal to go?
Back to the supermarket, of course!!  And so I began my quest, taste testing every truly dairy-free yogurt I could find, and discovering a bounty of products I had heretofore neglected.  The most amazing news?  Not only are vegan yogurts healthy and delicious, they contain a mere FRACTION of the sodium of traditional cow's milk yogurts.  We're talking 10-20 milligrams sodium per serving, as compared to 75-150 milligrams of sodium in standard cow's milk yogurt!  Protein, calcium, fiber, iron, vitamins – they're all there – in a smooth and creamy cholesterol-FREE form!  SHA-ZAM!!
Trader Joe's Organic Soy Yogurt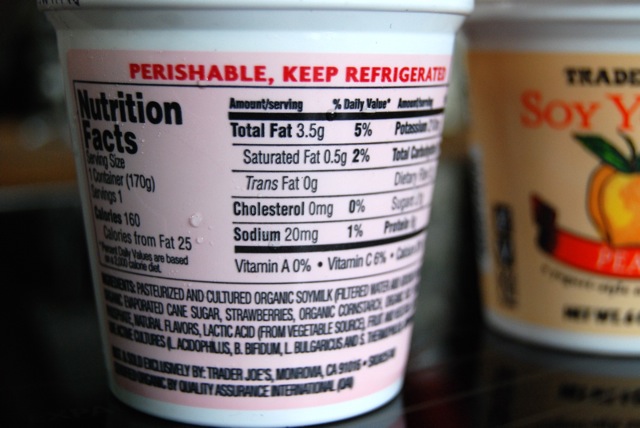 Trader Joe's Organic Soy Yogurt sells for 99 cents per 6-ounce container, comparable to many conventional yogurts.  And if you like conventional yogurt, you're going to LOVE this!  Sweet, smooth, and creamy, you'd be hard pressed to tell the difference between the two.  The peach yogurt (above) had big chunks of fruit and was absolutely delicious.  I only wish Trader Joe's offered additional flavors (not that I'm griping – love you, TJ's!)
Whole Soy & Co Organic Soy Yogurt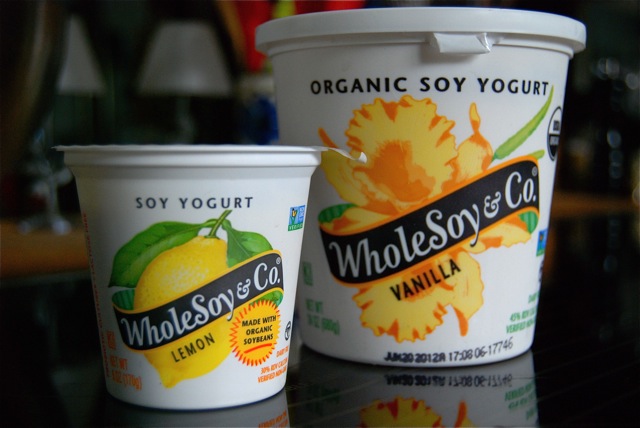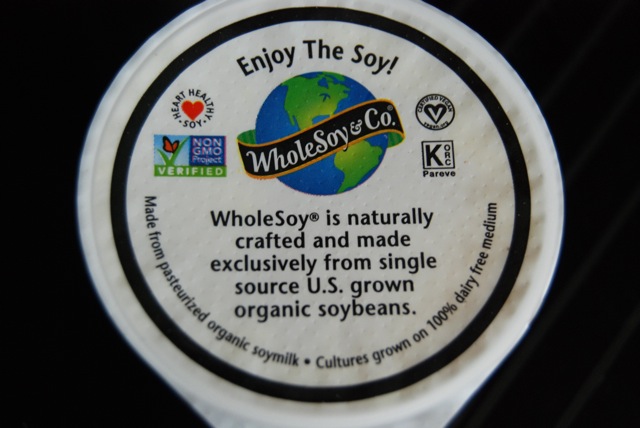 Whole Soy & Co Organic Soy Yogurt is sold at Whole Foods markets and elsewhere.  The 6-ounce container costs $1.19, slightly more than the soy yogurt at Trader Joe's; a few flavors are also available in more cost-effective 24-ounce containers.  The yogurt has a creamy, almost whipped texture that's light and absolutely delicious.  Whole Soy has a fabulous array of flavors; my favorites so far are Lemon and Key Lime.  I can't wait to try the rest!
Amande Cultured Almond Milk
Amande Cultured Almond Milk is owned by Cascade Fresh, the same company whose delectable lemon yogurt I wrote about years ago. I was super excited to try this yogurt because of the connection, but I must say Amande is a completely different animal (pun intended). It's tasty, don't get me wrong. It's also exclusively fruit sweetened, which is a nice rarity in yogurt. It was the texture I wasn't expecting, which is far more rigid than Cascade Fresh or either of the soy yogurts mentioned above. Not bad, just different. Amande is offered in a variety of flavors; I've tried blueberry and cherry so far – both delicious.  At $1.49 per 6-ounce container at Whole Foods, it's on the higher end of the cost spectrum.  Fortunately, they do offer it on sale on occasion, so keep your eyes peeled.
So Delicious Cultured Coconut Milk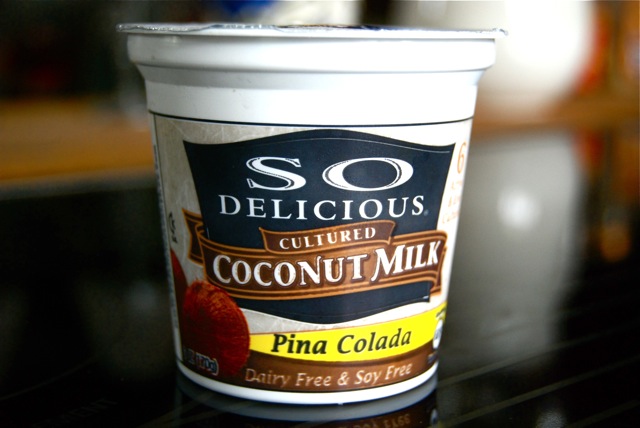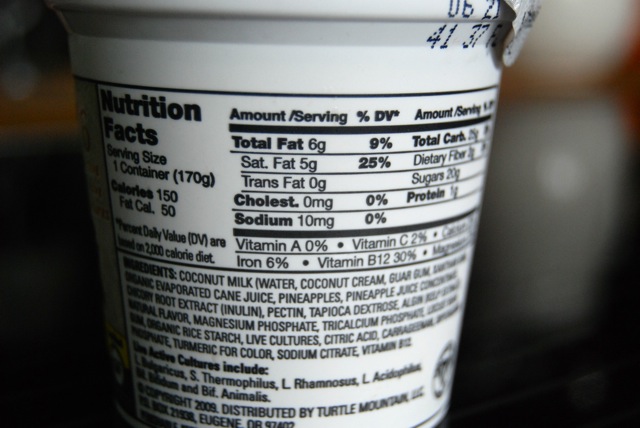 So Delicious Cultured Coconut Milk is true to its name.  The lightest and creamiest of all the non-dairy yogurts I've sampled so far, the Pina Colada flavor (eaten for breakfast) was so luscious it made me feel a bit indulgent.  So Delicious costs $1.79 per 6-ounce container at Whole Foods (indulgent in price too) and comes in several flavors, all with a subtle hint of coconut. YUM. If you're looking for a new and decadent tasting dessert with zero guilt, look no further!
In conclusion, non-dairy yogurts are a boon not only to those avoiding dairy (like vegans and the lactose intolerant), but to anyone looking to limit sodium.  They offer all the flavor and aesthetic of traditional cow's milk yogurt, with as much (and sometimes more) calcium.  The only downside?  Non-dairy yogurts often cost more and aren't sold widely in many supermarkets.  The yogurts showcased above were purchase at either Trader Joe's or Whole Foods.  If you don't have either store nearby, try local supermarkets and health food stores.  If you don't see any non-dairy yogurt, ASK!  Many supermarkets will order products per client's request.  And if you know of any other non-dairy yogurts to look for, please comment below and let me know!!  I am eager to try them ALL.  LOL!