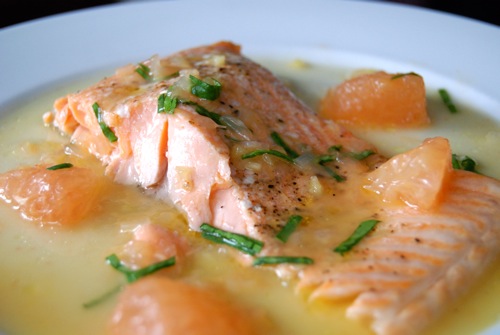 Yesterday was my daughter Madison's birthday and as the birthday girl, she got to choose dinner.  Madison's favorite food in the world (besides cheesecake) is salmon, and I'd found this recipe in Fine Cooking weeks ago and set it aside for the occasion.  But when I went to the supermarket yesterday to buy the ingredients, I made a discovery.  Whereas salmon was running $10.99 to $12.99 a pound, they had Steelhead Trout on sale for a mere $3.99!  HOLLLLA!!  I got a pound and a half (and was tempted to buy more).  If you've yet to discover this wonder fish, let me tell you.  Steelhead trout looks and tastes so much like salmon, you'll never know the difference.  This short article says it beautifully, but in sum: salmon are salmon, trout are trout, and no they aren't the same.  But the two fish do share similarities in breeding patterns, and most definitely look and taste identical.  Today's recipe is a perfect showcase for either.  The fish is roasted simply, just a brush of olive oil, dusting of black pepper and 15 minutes is all it takes to make it melt in your mouth.  But the sauce elevates it to stardom.  The combination of citrus tang, sweetness and spice – ooo wee! So much flavor and it's SALT FREE!
Yields 4 servings.
SODIUM CONTENT:  98 mg per serving
INGREDIENTS:
1 1/2 lbs. steelhead trout (6 oz. each)
1 T. olive oil
freshly ground black pepper to taste
2 ruby red grapefruits
2 tsp. olive oil
1 shallot, minced
1 t. peeled and minced fresh ginger
2 1/2 t. honey or agave nectar
1/8 t. ground cayenne pepper
2 t. fresh lemon juice
2 T. thinly sliced fresh basil
DIRECTIONS:
Preheat the oven to 350 degrees. Place the steelhead trout in a baking dish.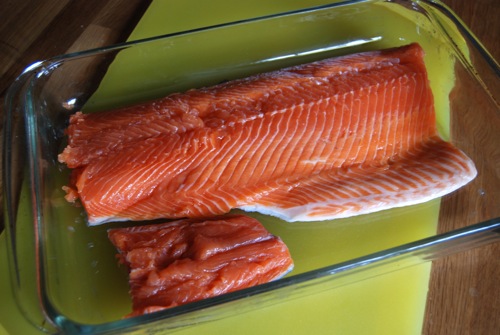 Brush with a tablespoon of olive oil and season with freshly ground black pepper to taste. Put the pan in the oven and roast 15 minutes, or just until cooked through.
While the fish is cooking, prepare the sauce. Cut the bottom and top off one of the grapefruits. Stand it on one end and cut down to remove the woolly white pith and peel.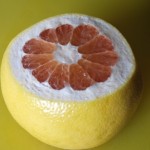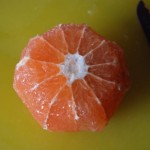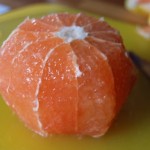 Use a very sharp knife to remove each grapefruit segment from its membrane.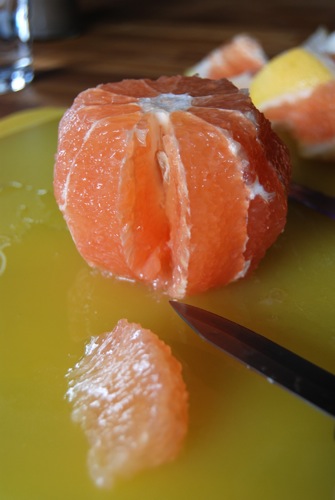 Cut the segments in half and set aside. Juice the other grapefruit and set aside.
In a saucepan, heat the oil over medium heat.  Add the shallot and cook, stirring, 2 minutes. Add the ginger, grapefruit juice, honey or agave nectar and cayenne and stir to combine.  Bring to a simmer, then cook until the sauce is reduced by half, about 10 minutes.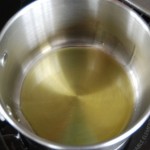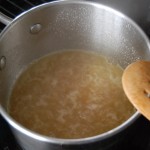 Add the lemon juice.  Right before serving, add the grapefruit pieces and basil to the sauce and stir to combine.
To serve, cut the trout into four segments, place each on a plate and spoon sauce over top.  Serve immediately.