11 years ago, today, I gave birth for the first time. My daughter, Madison, was and is a ray of light. Positive, joyful and full of energy, we nicknamed her 'Sunshine.' This cake is my homemade present to her. I used my recipe for the Best Low Sodium Birthday Cake Ever, swapping lemon extract for the vanilla in the cake batter, and adding yellow food coloring to the frosting. Bake the cake in two 8-inch round pans, leaving one intact and cutting the second into 8 equal wedges, as show below. Once assembled, the yellow-tinted frosting gives the cake its sunshiny look and can be decorated whatever way you'd like. For Maddie's cake I piped on multicolored icing to make a face, but you could use M&Ms or other candies, colored sprinkles or sugar. The beauty of this cake isn't just in its looks either. As delicious as it is pretty, it's sure to put the sunshine into any celebration. Many thanks to the cookbook Baking: easy-to-make home bakes for the sun cake inspiration.
Yields 16 servings.
SODIUM CONTENT: 27 mg per serving
INGREDIENTS:
Batter:
1 3/4 c. sugar
2/3 c. (10 2/3 T.) unsalted butter, softened
2 eggs
2 t. pure lemon extract
3 c. flour
2 1/2 t. Featherweight sodium free baking powder
1 1/2 c. low fat milk
Frosting:
4 c. powdered sugar
1/2 c. (1 stick) unsalted butter, softened
1/3 c. low fat milk
1 t. pure vanilla extract
24 drops yellow food coloring
DIRECTIONS:
Preheat oven to 350 degrees. Get out two 8-inch round cake pans. Grease and flour both pans and set aside.
Using a mixer, cream the sugar and butter in a large bowl. Add the eggs and lemon extract and blend well. Sift together the flour and baking powder in another bowl. Add the flour mixture to the wet batter, about 1/3 at a time, alternating with the milk. Repeat until everything has been added, mixing well.
Pour the batter into the prepared baking pans. Place on middle rack in oven and bake 30-40 minutes, or until tester inserted into the center of cake comes clean. Remove pans from oven and place on wire rack to cool. Cool fully before carefully running a knife around edges, inverting pans and gently removing cakes.
Before assembling, prepare a base for the cake. I used a large baking sheet covered in aluminum foil.
Leave the one round cake whole and position it in the center of the baking sheet.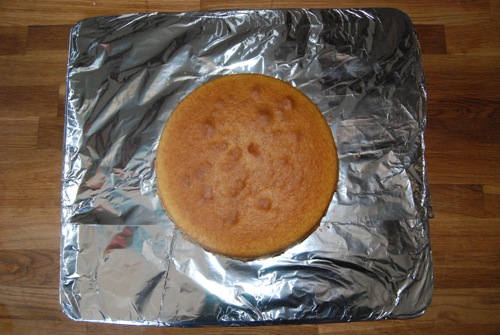 Using a very sharp knife, cut the second round cake into 8 equal wedges as shown.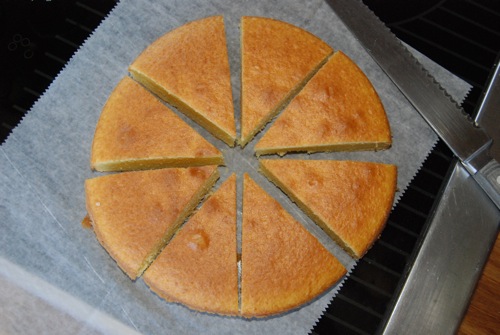 Trim each wedge at the base, so that it fits snugly against the round cake.
Assemble the sun by placing the trimmed wedges around the round cake as shown.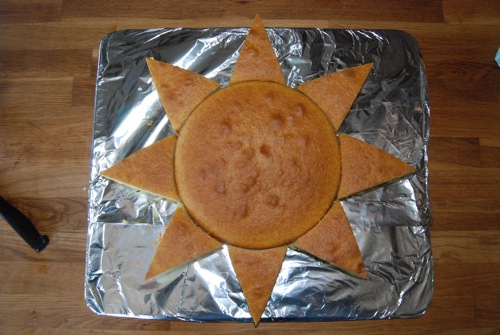 Set the sun aside and prepare the frosting. Sift the powdered sugar into a large bowl. Add the butter, and cream together using an electric mixer. Add the milk and vanilla, and beat until smooth. To tint the frosting, add yellow food coloring, one drop at a time, beating and adding more as necessary ( I used 24 drops for the color shown).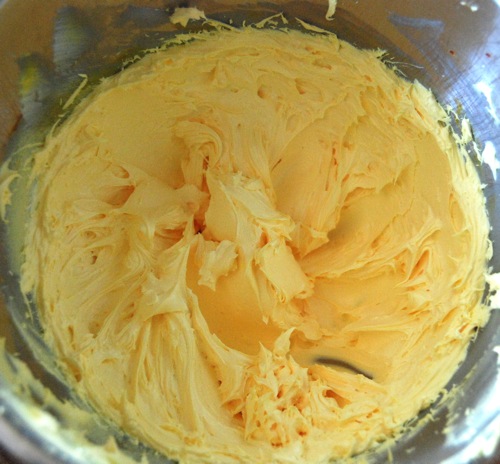 Spread a tiny dollop of frosting on the base of each wedge to "glue" it to the round center.  Then gently frost the top and sides of cake, and decorate as desired.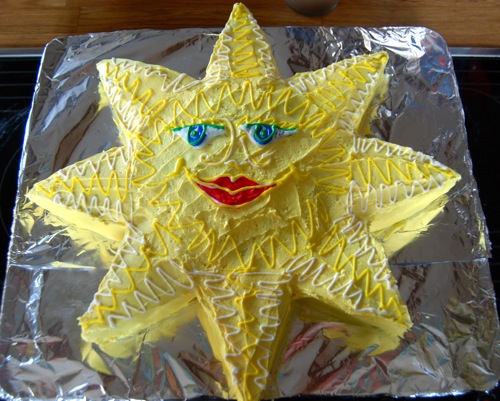 HAPPY BIRTHDAY TO MY SUNSHINE!!!