This morning the thermometer read -0 degrees. I've seen -3 before, even -15, but -0? I was tempted to see if the thermometer was broken, but by the time I went to check again it had moved to the single digits, and stayed put. Days like this are divided into necessary chores. Hauling wood, stacking wood, tending fires, and (squeezed into the itty bitty moments between) cooking. For those of you unfamiliar with my family's third child (aka, Home Sweet Home) we live in a very old house. Our 250-year-old colonial is heated solely by wood. For 6 months of the year I am LUMBER DISHY! Tender of Fires, Hauler of Wood, and Central Heater. Daily I haul wheelbarrows of wood into the house and do everything necessary to keep our all-important fires stoked. PROS: I don't need a gym membership. We save a boatload of $$$. CONS: Challenging MENIERE'S DISEASE! (always fun) and less time and energy to devote to cuisine. But fear not, friends! Days like this are made for slow cooking.
Oooh slow cooker, how I love thee! Your slow and steady heating. Your wafting aromas. The way you make each day worry-free, happy in the knowledge that DINNER WILL BE READY, even when I'm not! Friends, regardless of your own weather, the cold or lack thereof, it's time to show your own slow cooker some low-sodium love. In the form of tender potatoes and peas simmered in a coconut-scented tomato-y broth, flecked with onion, garlic, and (my favorite) cilantro. Heaped over a mound of steaming brown rice it's a bellyful of warmth and a bowlful of unforgettable goodness, especially on a day spent wearing leather gloves with your head in a wood stove. AHHHHHHHHH.
As in the past two slow cooker recipes, Minestrone Soup and Sweet Potato-Black Bean Chili, I've used V8 Low Sodium Vegetable Juice in lieu of broth, but you can of course substitute stock or water if desired. I used Yukon Gold potatoes here, but any (white, red, etc.) should be fine. One last reminder about curry powder. Many makers bulk up their seasoning blends with SALT (booo!); read labels carefully to make sure yours is salt-free.
Adapted from The Everything Vegan Cookbook.
Serves 8.
SODIUM CONTENT: 145 mg per serving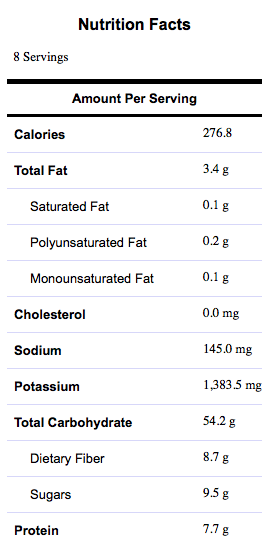 INGREDIENTS
1 large onion, diced
6 cloves garlic, minced
2 c. low-sodium vegetable juice
1-14-oz. can lite coconut milk
6 T. no-salt-added tomato paste
8 medium potatoes, cut into 1-inch cubes
3 c. fresh or frozen green peas
2 T. low-sodium soy sauce, Bragg Liquid Aminos, or Coconut Aminos
2 T. plain, unflavored rice wine vinegar
2 T. no-salt-added curry powder
1 T. agave nectar
1 t. ground ginger
freshly ground black pepper to taste
1/4 c. chopped fresh cilantro
DIRECTIONS
Place all ingredients EXCEPT CILANTRO into the slow cooker. Stir well to combine, cover, and set to high. Cook 6 hours. Before serving, stir in cilantro. Serve hot. DIG IN!