How can you not love an appliance that takes all the work out of cooking, especially when it produces something that looks and tastes so impressive? Pop all of the ingredients into the cooker at 9 am and by 5 pm you'll have a meal fit for royalty. Psst. It's also salt free. 😉 Substitute 2 cups low-sodium beef broth for the water and beef bouillon granules, if desired.
Serves 8.
SODIUM CONTENT: 205 mg per serving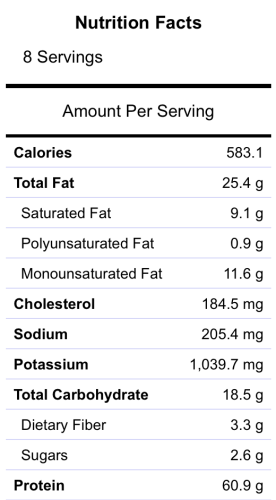 INGREDIENTS
2 c. water
1 c. red wine
1 T. minced garlic (3 cloves)
2 t. very-low-sodium or sodium-free beef bouillon granules
1 t. freshly ground black pepper
1 t. ground mustard
1/2 t. celery seed
1/2 t. dried basil
1/2 t. dried marjoram
1/2 t. dried oregano
1/2 t. dried savory
4 c. diced potato (about 3 medium potatoes, peeled)
1 1/2 c. sliced carrot (3 medium carrots, peeled)
1 c. diced onion (1/2 med/large onion)
3.5 lb. beef bottom round roast
DIRECTIONS
Plug in slow cooker and set to medium. Pour in water, wine, garlic and seasonings and stir to combine. Add the veggies and stir. Last, place the roast into the pot and flip several times to moisten. Place lid on cooker and let simmer 8 hours, turning roast several times if possible. By the end of cooking time, meat will easily pull apart and veggies will be fork tender. Plate the beef with vegetables and broth. Serve immediately.