My kids bug me all week long for their favorite breakfast treat – "Mommy, your pancakes are the BEST!" – so Saturday morning at our house means only one thing. The recipe below makes enough for 4, so go throw that nasty boxed mix away and get cookin'.
SODIUM CONTENT: 63 mg per serving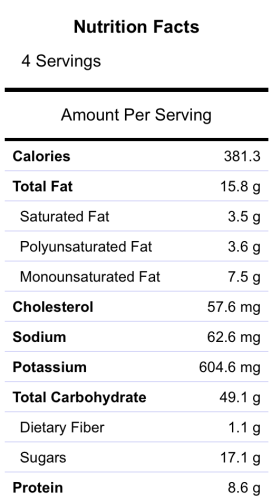 INGREDIENTS
1 1/3 c. all-purpose flour
1/4 c. sugar
1 T. Featherweight sodium-free baking powder (available at Whole Foods markets and online at healthyheartmarket.com)
1 egg
1 1/3 c. lowfat milk
3 T. vegetable oil
1 T. pure vanilla extract
1 T. unsalted butter
DIRECTIONS
Measure the flour, sugar and baking powder into a large bowl and whisk well to combine. Add the egg, milk, oil and vanilla. Mix well and let sit for a minute or two to thicken.
Place griddle or skillet on stove and turn heat to medium-high. Add butter to pan. Once melted, spread evenly across bottom of pan. Pour batter onto heated griddle. When pancake has bubbled on top and is nicely browned on bottom (approx. 2-4 minutes), flip over. Brown on second side.
Serve with unsalted butter and real maple syrup, apple butter, applesauce, apple maple drizzle, blackberry sauce, or strawberry sauce.
Variations: Place chocolate chips, blueberries, banana slices or other fruit on uncooked side of pancake while bottom browns. Add vanilla, cinnamon or other flavorings to batter.