Yesterday's Mulligatawny Soup left me in THE MOOD (all caps) for more Indian food!  So I'm following up with today's vegan/vegetarian main course: Red Lentil Dal. Adapted from Fine Cooking (oh how I love thee), this low sodium version is a snap to prepare and simply SINGS with the mingling flavors of ginger, garlic, and that divine herb – cilantro.  I know some people cannot stand cilantro.  This recipe calls for a full cup of the herb and I myself added extra for garnish.  If you are someone who despises the stuff, you may want to pass on this recipe altogether.  If not, try substituting another leafy green, say chopped baby spinach?  Kale?  Parsley for a middle eastern take?  Whatever floats your boat, be sure to prep all the ingredients beforehand for ease.  Now I'm off to tuck in.  WOOT!  Happy Friday!!
Yields 6 generous servings.
SODIUM CONTENT:  48 mg per serving
INGREDIENTS
1 medium yellow onion, coarsely chopped (1-1/2 c.)
4 medium cloves garlic, chopped
2 T. peeled and chopped fresh ginger (from a 2-inch piece)
1 serrano chile (or other pepper, your choice), stemmed and chopped
2 T. vegetable oil
1 1/2 t. mustard seeds
1 T. salt free garam masala or curry powder
1 1/2 c. red lentils, rinsed well
1/2 small head of cauliflower, broken into florets (about 3 c.)
4 medium carrots, peeled and cut into 1-inch pieces (about 2-1/2 c.)
2 large Yukon Gold potatoes (about 8 oz. each), peeled and cut into 1-inch chunks (1-1/4 c.)
1 t. ground turmeric
freshly ground black pepper, to taste
1 c. chopped fresh cilantro (or substitution)
DIRECTIONS
In a food processor, pulse the onion, garlic, ginger, and chile in 1-second intervals until finely chopped. (Don't run the processor constantly or the mixture will become too watery.)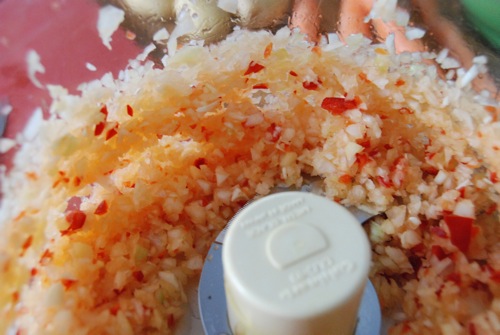 Heat the oil in a medium stockpot over medium heat. When the oil is hot, add the mustard seeds.
When the seeds begin to pop and turn gray, stir in the garam masala or curry powder, onion mixture, lentils, cauliflower, carrots, potatoes, turmeric and 6 cups of water.
Bring to a boil over medium-high heat, then reduce the heat to maintain a gentle simmer (med-low to low) and cover. Simmer until the vegetables are tender, stirring occasionally, about 20-30 minutes. Season to taste with freshly ground black pepper and stir in the cilantro.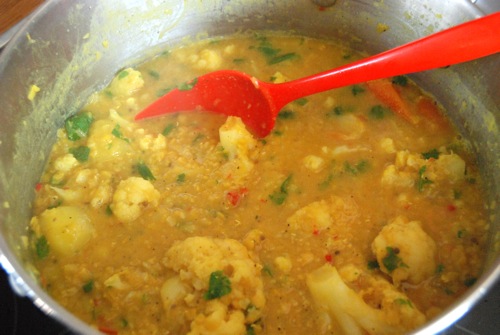 Serve immediately, spooned over steamed Basmati (or other) rice and garnished with additional cilantro if desired.