There's nothing better on a weekend than waking up to a little coffee and the smell of breakfast baking.  But who's got time to hassle first thing in the morning?  When my kid needs help with her snowpants, the dog's sniffing around like she's gonna "do something" and my husband's yelling from the other room?!  On days like this, THIS is my recipe.  10 minutes prep and the oven does the rest.  This coffee cake is beautiful.  It's low in sodium, salt free, moist, delicious, blah blah blah — but more than that.  It's foolproof.  And I mean it.  This cake comes out perfect every time.  But even better, this basic recipe can be altered in countless ways as long as you follow the standard measurements.  Why stick to white flour?  Try a combination of white and wheat.  Out of cocoa?  Substitute an equal amount of ground cinnamon in the topping, or add a dash of cinnamon along with the cocoa.  Incorporate lemon zest for another taste or use lemon extract instead of or in combo with the vanilla.  Don't have plain yogurt?  Use vanilla, chocolate, coffee or fruit yogurt instead.  Don't have any of the above?  You're outta luck.  But otherwise the variations are endless.  And that should be enough to put a smile on anyone's face, even first thing in the morning.  Recipe adapted from the Stonyfield Farm Yogurt Cookbook.
Yields 12 servings.
SODIUM CONTENT:  31 mg per serving
INGREDIENTS:
BATTER:
1/2 c. (1 stick) unsalted butter, softened
3/4 c. sugar
2 eggs
1 1/4 c. Stonyfield Farm Organic Low Fat Plain Yogurt
2 t. pure vanilla extract
2 c. flour
2 t. Ener-G sodium free baking soda
1 t. Featherweight sodium free baking powder
1/3 c. semisweet chocolate chips
CRUMB TOPPING:
1/3 c. brown sugar, packed
1/2 c. flour
1 1/2 t. cocoa
1/4 c. (1/2 stick) unsalted butter, softened
1/4 c. semisweet chocolate chips
DIRECTIONS:
Preheat oven to 350 degrees. Get out a 9 x 13-inch baking dish, grease well and set aside.
In a large mixing bowl, cream together the butter and sugar.  Add the eggs, one at a time, beating well after each.  Stir in the yogurt and vanilla.  Add the baking soda and baking powder and stir to combine.  Gradually add in the flour, mixing well.  Last, stir in the chocolate chips.  Pour the batter into the pan.
Next make the crumb topping.  Measure the brown sugar, flour and cocoa into a small mixing bowl and whisk to combine.  Add the butter and cut into the mixture using your (freshly washed) hands.  Process until a moist crumb is achieved, then stir in the chips.  Sprinkle the topping evenly over the batter.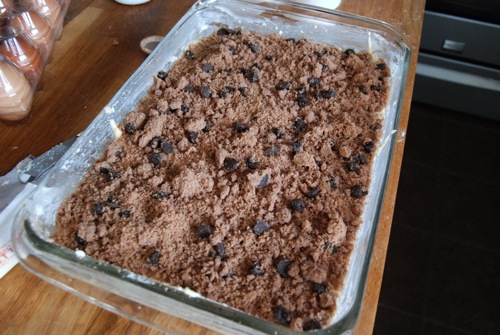 Place the pan on the middle rack in the oven and bake until toothpick inserted in the center comes clean, 35-45 minutes.  Use the shorter baking time for metal or dark pans, longer for ceramic or glass.  Remove from oven and place on a wire rack to cool slightly before cutting into squares and serving.
Serve warm or at room temperature.  Cover leftovers with plastic wrap.  If the cake seems a little stale, simply reheat for a few seconds in the microwave.  POOF!  Oven fresh again, like magic.
PS:  This cake smells so good, it's even drawn the turkeys!  I am not joking.  They came up on the porch and have been looking in at me through the windows.  Hey lady – throw us a slice!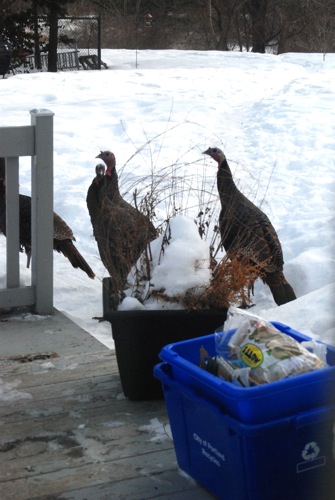 I can't say I blame them.  MMMMMmmmmmmm!!!