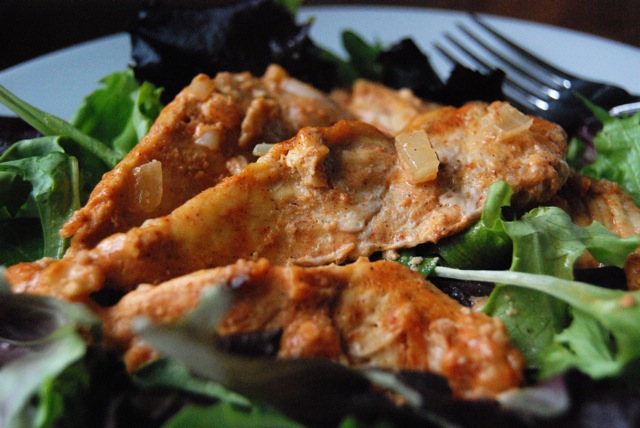 Chicken is a wonderful meat. Lean, flavorful, yet mild enough to take in whatever marinade you throw at it – or in this case, submerge it in. The premise behind marinating meat with yogurt goes far beyond taste though. If you've never really understood the chemistry behind marinades, I highly recommend a short article from Fine Cooking which explains the difference between acidic marinades (those with fruit juice, wine or vinegar), enzymatic marinades (relying on fruit enzymes) and dairy-based marinades (using buttermilk or yogurt). Of all three types, only dairy marinades reliably tenderize meat without the risk of toughening or disintegrating. Though this recipe uses chicken tenders, the marinade works equally well with any cut of chicken, from bone-in breasts to a whole roaster. For maximum impact, allow the chicken to steep as long as possible, even overnight. We've enjoyed these strips two ways. Plain they're delicious, but for one of the BEST salads I've had in forever, plate warm chicken on top of mixed spring greens, sprinkle with shredded cheese (I used a smidgen of smoked Gouda) and drizzle with your favorite salt-free dressing. A FANTASTIC low sodium meal!! Recipe courtesy of Stonyfield.
Yields 4 servings.
SODIUM CONTENT: 148 mg per serving
INGREDIENTS:
1 c. Stonyfield Organic Fat Free Plain Yogurt
1 medium onion, finely chopped
4 cloves garlic, finely chopped
2 T. lime juice
1 T. honey or agave nectar
1 T. olive oil
1 t. paprika
3/4 t. ground cumin
1/4 t. cayenne
1/4 t. ground cinnamon
1 1/2 lbs. chicken tenders
DIRECTIONS:
Measure all of the ingredients EXCEPT chicken into a large mixing bowl and stir well to combine. Add the chicken and coat thoroughly. Cover the bowl and refrigerate for 30 minutes to 12 hours.
Once ready to cook, preheat oven to 375 degrees. Line a baking sheet with parchment or aluminum foil and arrange chicken tenders in a single layer. Bake chicken until golden brown, about 12-15 minutes. Serve immediately.