My family never tires of spaghetti and red sauce, but I do.  So I created today's dish to be a quick & easy alternative to the same old pasta.  The cream sauce was my idea of a happy medium.  It's much lower in fat and sodium than a traditional alfredo, but adds a ton of flavor as well as a modest measure of decadence.  The basic recipe really lends itself well to improvisation.  I've made it as detailed below, but I've also added sauteed shrimp to the mix, and it'd be equally great with some no-salt-added canned tuna or salmon.  But why stop there?  Try adding some additional veggies, such as green peas.  Or along with the roasting asparagus, throw in some thinly sliced lemon, shelled edamame, snowpeas, or…? The possibilities are endless.  When tossed with a whisper of cream sauce, a touch of citrus, garlic, onions and fresh dill, a little grated Parmesan cheese and black pepper.. OOoh!! It's my idea of spring!
Yields 4 servings.
SODIUM CONTENT: 127 mg per serving
INGREDIENTS:
1 lb. pkg. Farfelle (bow tie) pasta
1 bunch fresh asparagus
2 T. olive oil
juice of one lemon (about 2 T.)
freshly ground black pepper to taste
3 T. unsalted butter, divided
1 medium onion, diced
4 cloves garlic, minced
1/4 c. heavy cream
1/4 c. Parmesan cheese, divided
2-3 T. chopped fresh dill
DIRECTIONS:
Bring a pot of water to boil and cook pasta according to package directions.
While pasta is cooking, preheat oven to 450 degrees. Line a baking sheet with aluminum foil. Wash asparagus, trim the bottom of each stalk and discard. Cut the stalks into 2-inch pieces and place in a mixing bowl. Add the olive oil, lemon juice and freshly ground black pepper to taste; toss well to coat. Turn the contents out onto the prepared baking sheet and arrange the asparagus in a single layer. Place sheet on middle rack in oven and roast 10 minutes.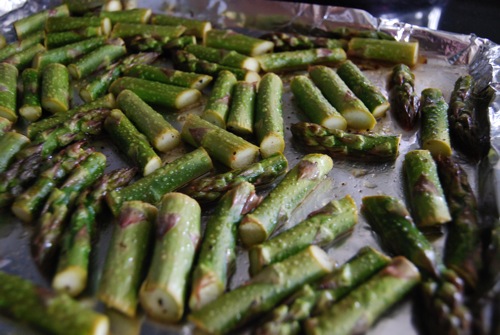 In a saute pan, melt 2 T. of the butter over medium heat. Add the onion and garlic and cook, stirring, until softened. Set aside.
Prepare the sauce. Measure the heavy cream, 1 T. butter and 1/8 c. Parmesan cheese into a small saucepan over medium heat. Whisk to combine until butter melts. Bring to a simmer. Once simmering, reduce heat to low and simmer 1 minute, whisking once or twice. Remove from heat.
Drain pasta and add to the saute pan with the onion and garlic. Remove roasted asparagus from oven and add to saute pan as well, along with all roasting juices from the baking sheet. Pour the cream sauce into the pan, along with the remaining 1/8 c. Parmesan cheese and fresh dill. Stir to combine. Season with freshly ground black pepper to taste. Serve immediately.