Anyone who's 'Liked' the Daily Dish Facebook page (no pressure), may recall me posting about the birth of my beautiful niece, Hannah. It's been over four months now and Hannah has been growing by leaps and bounds.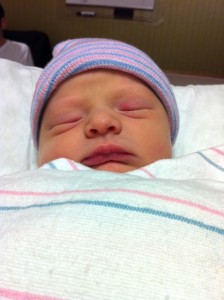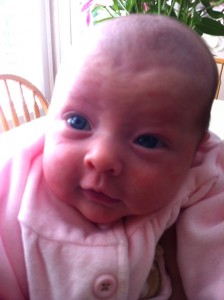 Isn't she CUTE??!! I know!! And yes, my sister is beautiful. Thank you. Thank you.
(lol)
Anyway, back to the story…
My sister is a very well-educated woman. Without disclosing the details of her personal life, she and my brother-in-law are both health care professionals, and they don't just talk the talk, they walk the walk. Meaning, they practice what they preach. Good nutrition has always been big priority for them, before Hannah's birth and especially now.
A few months ago, my very young niece began having some issues with acid reflux. My sister and bro-in-law were understandably upset. After consultation with their pediatrician, my sister, a devout breastfeeder, made the decision to eliminate dairy from her diet. The doctor believed this, along with a very low dose of medication, would help resolve the acid reflux issue, and thankfully, it has. Hannah's been doing great, but more than that, my sister began noticing how much better she was feeling, too. She began wondering more about her diet. Was there more she could be doing for herself – and more so, for Hannah?
My sister and brother-in-law have always eaten well. Typical meals revolve around healthy salads, lean chicken, and fresh fruit. But after doing more research and reading The China Study, my sister and brother-in-law decided to give up meat and eggs (along with dairy) and give a whole foods, plant-based diet a try. My sister was a little concerned at first, worrying that Hannah might not be getting enough calories, but almost a month later, Hannah is thriving. And best yet, so are she and my bro-in-law!
As you can imagine, I was thrilled to hear of my sister's decision. It's been over two months since my husband and I went vegan and we've been feeling fantastic. To know that she and her family will be benefiting from the same diet is the greatest gift imaginable. And it's been a lot of fun too. My sister and I have been texting back and forth, talking about food and recipes, and… today, I'm very proud to share my sister's latest creation! YAY!!!!!!!!!
Suzanne's Yummy Quinoa with Sauteed Veggies
From Suzanne: The amounts are all approximate, as are cooking times. I just added the veg according to how long I thought it would take on medium heat. I also added olive oil as needed, though water will work equally well. Cumin and stock are optional as well but it is super yummy with it. Would have added bell peppers but didn't have any. Sorry so poorly written but [hubs] is on call today for 24 hrs and it is just me and Hannah-she is on my lap fussing!
KUDOS! to my sister for making such yummy food – ALL WHILE DEALING WITH A 4 MONTH OLD!!!
Note: This recipe is not only low-sodium and vegan, but gluten-free as well. Nutrition Facts were calculated using water for sauteeing; olive oil adds an additional 6 g fat per serving.
Serves 4
SODIUM CONTENT: 182 mg per serving
INGREDIENTS
1 cup sprouted or regular quinoa (sprouted has more nutrition and is easier to digest)
2 cups low-sodium vegetable broth
1 tsp cumin
2 Tbs water or olive oil, for sauteeing
1 medium onion, diced
4 cloves garlic, minced
1 lg sweet potato, diced
1 medium red potato, diced
4 medium carrots, sliced
1 small head broccoli, cut into florets
5 medium mushrooms, sliced
1 medium yellow squash, sliced
1 medium zucchini, sliced
2 cups fresh spinach
1 medium tomato, diced
DIRECTIONS
Measure the quinoa, cumin, and broth into a saucepan. Bring to boil over high heat, then reduce heat to low, cover, and simmer until liquid is absorbed, approximately 20 minutes. Remove from heat and set aside.
Heat water or olive oil in a large skillet or saute pan over medium. Add onion and cook until translucent, about 3 minutes. Add garlic, sweet potato, red potato, and carrots. Cook until veg begin to be tender, about 5-7 minutes. Add broccoli and mushrooms and cook for another 2-3 minutes, then add zucchini and squash. Cook until all veg are tender, then add spinach and cook until wilted.
Remove from heat. Spoon veggies over the cooked quinoa and top with diced fresh tomato. ENJOY!