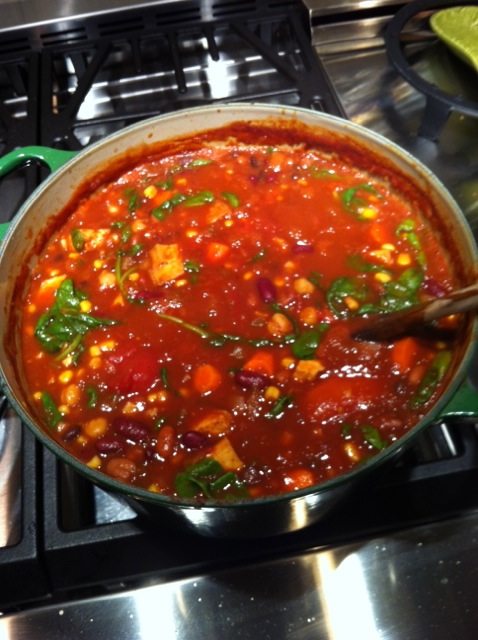 Due to my sister's unfortunate absence I will be guest posting again this week with our vegan chili recipe. It does have a lot of possibilities for adding or removing vegetables depending on taste and can be seasoned differently depending on preference. I made this last night and first baked the tofu with toasted sesame oil, then put onion, green pepper, carrots, spinach, garbanzo beans, black beans, corn, kidney beans and tomato plus spice and garlic in the chili. We served this with whole grain bread and it was delicious! A bit on the sweet side, so if desired you can leave out the corn and carrots, or serve over brown rice for a nuttier flavor. Hope you enjoy it too!
Serves 8
SODIUM CONTENT: 70 mg per serving
INGREDIENTS
1 lb extra firm tofu, cubed
3 T water
2-3 cloves of garlic minced
1 small onion diced
1 green pepper diced
3 medium carrots peeled and sliced
1 small can tomato paste
1 can garbanzo beans no salt added- rinsed and drained
1 can dark red kidney beans-no salt added-rinsed and drained
1 can black beans no salt added- rinsed and drained
1 can pinto beans no salt added- rinsed and drained
1 can corn no salt added- rinsed and drained
1 large can 28 oz peeled tomatoes-no salt added
3 T chili powder
pinch of cayenne pepper if desired
2 cups spinach
DIRECTIONS
Preheat oven to 425 degrees. Lightly spray a baking sheet with oil and arrange the cubed tofu in a single layer. Place on middle rack in oven and bake 15 minutes. Gently flip the cubes, then return to the oven to bake another 15 minutes. Remove from oven and set aside.
Heat the water in a large saute pan. Add the onions, green peppers, carrots and garlic and cook until tender. Add the tomato paste and stir. Add all of the beans and corn and peeled tomatoes. Season with chili powder and cayenne if desired. Bring to a boil then reduce to a simmer and cook for 30 minutes.
Add spinach and cook until wilted. Serve immediately.