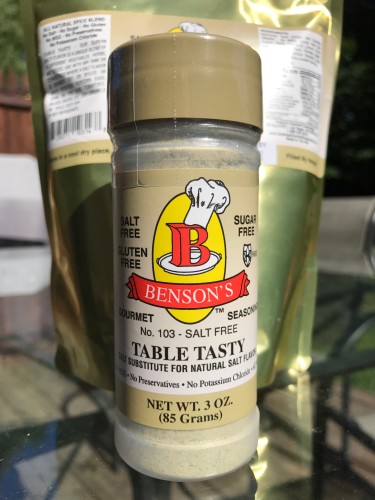 Salt-free friends and flavor seekers!
I've written about many salt-free seasonings over the years, all of them delicious in their own right, but the one I've talked about most is Benson's Table Tasty. This miracle blend by Benson's Gourmet Seasonings is simply the closest thing I've found to salty taste with ZERO salt and sodium. Debbie Benson, the amazing woman behind the brand, wrote to tell me that they have improved their packaging – adding CLEAR backs to the 1 and 2 lb re-sealable bags – making it even easier to know when it's time to re-up!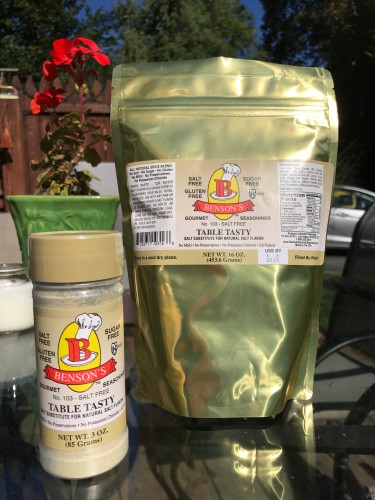 The new pricing info is as follows:
3 oz. bottle – $6.99
1 lb. bag – $29.99
2 lb. bag – $54.99
SO. Where does that leave us? Well. Whether you're like me and simply can't get enough of the salty taste of Benson's Table Tasty – or – you've never had the pleasure of sprinkling this lil marvel on popcorn, potatoes, and so much more, you're in LUCK. Because I have a 3 oz. bottle + a FULL POUND BAG of Table Tasty to give away!
YESSSSSSSSS!!!!!!
To enter to win this taste-tastic duo, simply leave a comment below letting me know you want the Benson's! This contest is open to everyone, everywhere, regardless of political affiliation. Since I'm still processing peaches (sigh..) I will leave this open through the weekend, announcing the lucky random winner first thing Monday morn (September 18, 2017). As always, I will not add your name to any list, contact you to sponsor my kids' school, or any other such nonsense, I promise (former girls scout's honor).
Hope you are all very well. It's beautiful here in Portland, Maine and I'm off to peel peaches! WOO.
Wishing you all the best of luck- and a lovely day too. XO Christy (Dishy)