Just in time for fall, a cake as beautiful as it is delicious!
My family and I went apple picking this past weekend at our favorite PYO in southern Maine, Doles Orchard.
We brought home a bushel of Fuji, Liberty, Honeycrisp, and Cortland apples and while unloading them, I noticed a recipe on the bag for Jewish Apple Cake. The fruit barely touched the counter before I was tying on my apron.
I've modified the recipe slightly, adding almond and lemon extracts because we'd run out of vanilla! If you prefer, simply substitute a tablespoon of vanilla extract instead. Or add it too. It's all good.
I used canola oil but vegetable oil should work equally well. If you try something else, like olive or coconut oil, or even melted butter, feel free to comment below and let me know how it goes. Always up for an excuse to make this cake again (it's almost gone).
Yields 1 large bundt cake (16 servings).
SODIUM CONTENT: 18 mg per serving.
INGREDIENTS
APPLE LAYER:
5 medium apples, cored and diced (no need to peel!)
5 T. sugar
2 T. ground cinnamon
CAKE BATTER:
2 c. sugar
1 c. canola oil
4 eggs
2 t. pure almond extract
1 t. pure lemon extract
1/3 c. orange juice
1 T. sodium free baking powder
3 c. flour
DIRECTIONS
Preheat oven to 350 degrees. Grease and flour a bundt pan and set aside.
To create the apple layer, place the diced apples into a mixing bowl, add the sugar and cinnamon, and stir well to combine. Set aside.
To make the cake batter, measure the sugar, oil, eggs, extracts, and orange juice into a mixing bowl and stir well to combine. Add the baking powder and flour and mix until smooth. Batter will be very thick.
Spoon 1/2 of the cake batter into the prepared bundt pan, spreading evenly.
Layer 3/4 of the apple mixture evenly over top of the batter.
Spoon the remaining batter evenly over the apples, then top evenly with the remaining apple mixture. The pan should be quite full.
Place pan on middle rack in oven and bake 1 hour and 15 minutes.
Remove pan from oven and set aside to cool fully. Pan may be placed on a wire rack or hung from a long-necked glass bottle (such as a wine bottle) to accelerate cooling.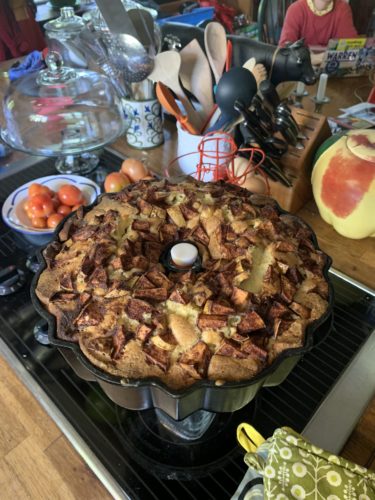 Allow cake to cool fully before attempting to remove from pan. ENJOY!