"Do the right thing.  It will gratify some people and astonish the rest."  — Mark Twain
These were the words greeting me when I opened the cereal box this morning. And as most cereal boxes don't normally impart wisdom, I suspected the contents just might surprise me as well.
Meet Sunrise Crunchy Vanilla by Nature's Path Organic.
Sunrise Crunchy Vanilla is a beguiling blend of textures with an irresistible taste.  Corn, rice, flax, quinoa, buckwheat, and amaranth meet in tiny puffs, crunchy flakes, and little round balls.
If that sounds like a mouthful, it is!  Light and airy, yet filling, this cereal brings me back to breakfasts of yore, when I would sit, happily munching, watching Saturday morning cartoons.   And it's not just an "acceptable" indulgence, it's downright healthy!
At 135 mg per serving, it meets the low-sodium mark and the taste..?  Oh my goodness.  If you love vanilla, and you love cereal, this is THE BEST CEREAL EVERRRRR.  But wait.  There's more!
Meet Sunrise Crunchy Maple.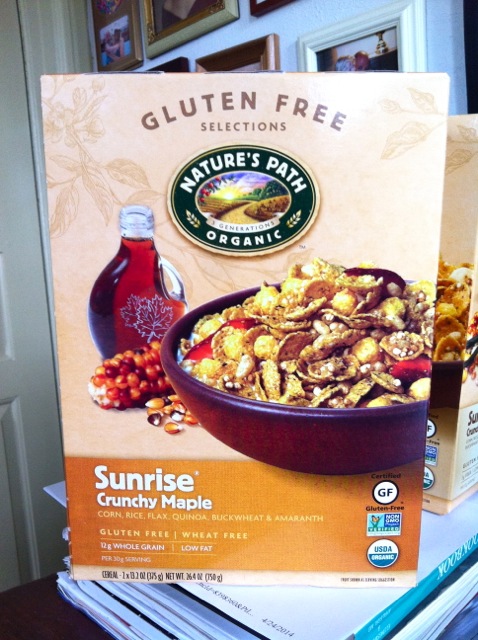 If breakfast isn't breakfast without the amber sweetness of maple syrup, then here's your wake up call!  Sunrise Crunchy Maple has the same combination of grains, shapes, and textures as its vanilla sibling, but with unbeatable all-natural maple flavor.  And only 130 mg sodium per serving!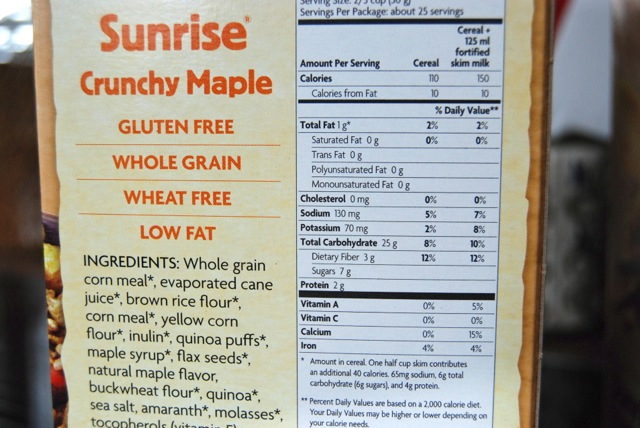 Best news yet?  Not only are Sunrise Crunchy Vanilla and Sunrise Crunchy Maple both indescribably delicious, they're also:
Gluten Free
Whole Grain
Low Sodium
Low Fat
Vegan
Organic
Non-GMO
What's NOT TO LOVE?!  My family and I were smitten with these cereals from our very first magical bites.  And today I want to share that goodness with you.
If you'd like to try them for yourself, leave a comment below!
One lucky winner will be chosen at random on Monday, May 5th.  The winner will receive not one, but TWO 26.4 oz. mega boxes of cereal: (1) Sunrise Crunchy Vanilla and (1) Sunrise Crunchy Maple.  And as each jumbo box contains not one, but TWO bags of cereal, that's a total of 4 bags of awesomeness!  YAY!
So don't wait.  You won't believe how DELICIOUS low-sodium breakfast can be!
PS: Nature's Path Organic celebrates best health for people and the planet, not only with its Sunrise Crunchy Vanilla and Maple, but with a host of other snacks and cereals for specialty diets.  Check out their entire list of Low Sodium Products – a whopping 4 pages worth!