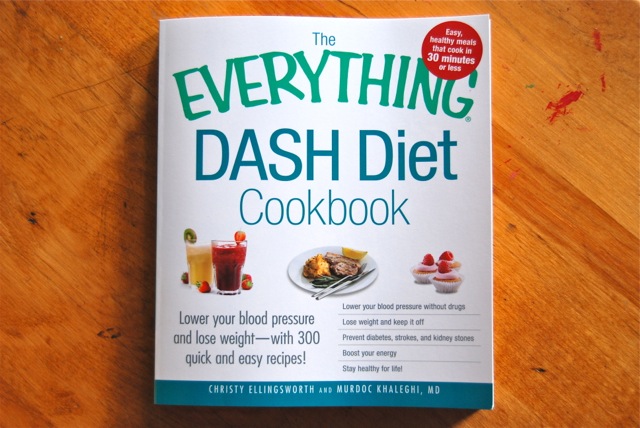 With all of the excitement of Thanksgiving upon us, I've neglected to mention anything about my new book!!
Like, IT'S HERE! IT'S HERE!!! After all those grueling weeks of work it feels fabulous to hold the tangible result in my hands. I worked HARD to make this book a reality and its publication is definitely worthy of celebration.
So without further ado, YEEEEHAWWWW!!!!!!
The Everything DASH Diet Cookbook was written with one goal in mind. To help you heal yourself, not through medication or medical intervention, but through 3 healthy meals a day.
I wrote this book to be a practical, hands-on tool; a cookbook you can turn to anytime and really USE. As much as I enjoy salivating over glossy photographs, if food is too elaborate, or expensive, or (insert impediment of choice), it becomes a burden. You are burdened enough. I want this to be a cookbook you will LOVE. Something to reach for when you're starving, a book your kids can cook from, something you can set your mug on, spill on, dog-ear the pages of. So go ahead, scribble in the margins, tweak the recipes, and truly make this book your own. I wrote this book FOR YOU, and there is no greater compliment to an author than for his or her work to be enjoyed.
The Everything DASH Diet Cookbook contains over 300 absolutely delicious, quick-fix recipes, table-ready in 30 minutes or less. It offers complete nutritional information for each recipe, a boatload of helpful hints, cooking tips, product information, and more. Whether just starting your low-sodium journey or looking for something new to keep you satisfied on the straight & narrow, this book will be something you can turn to, again & again.
I know many of you already pre-ordered the book from Amazon and are hopefully reading this with your very own copy sitting nearby. WONDERFUL! Please turn to page number… kidding! Point is, if you've already bought a copy, terrific; really hope you're enjoying it. But for those who haven't, or if you're the greedy type and would like to get another copy just because, here's your chance to get your very own autographed copy – FOR FREEEEE!! (And really, who the heck doesn't love FREE?!)
Simply leave a comment below letting me know you'd like to be entered for the giveaway. The contest will run now through the end of next Thursday, November 22, 2012 – otherwise known as THANKSGIVING here in the US – and the lucky winner will be announced first thing next Friday. This contest is open to all, no residency restrictions.
GOOD LUCK!!