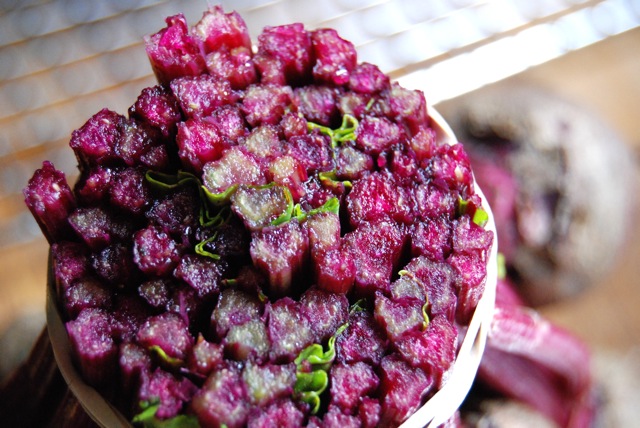 I am one of those people.  The Beet Haters. And like the cilantro-challenged and Team Hold-the-Mayo, I've chosen sides and stuck with it.  Despite near-weekly torture trials back in Philly, where we used to get beets in our CSA all season long, loathing remains. Try as I might, I just cannot stomach them. Regardless of color or cooking method, roasting, pickling, boiling, shredding, nothing can take away the beet-y taste of beets.
You'd think I would have learned, wouldn't you?  And simply left that bunch of beets at the farmer's market.  But no.  I am a glutton for punishment.  Their irresistible purple found its way into my grocery sack a week ago.  I couldn't believe it either, so I hid them in my crisper bin.  But each time I reached for the carrots or a scallion or two, they stared back at me accusingly.  After pushing them aside for days, I actually felt bad for those beets.  What had they ever done to me?  Except taste bad?
Perhaps masking them with other flavors would help? And so I went on a quest for a beet-tastic recipe.  Something I hadn't tried before.  I was looking for a way to use beets where beets featured prominently but weren't the whole sha-bang.  I found today's recipe on one of my favoritest of websites.  Nava Atlas' Veg Kitchen.  Oooh how I love you, Nava!  You make even BEETS delicious!  It's true!  Today's salad will make even the staunchest of beet haters into a convert.  At least for this meal.
Here the beets are roasted.  The recipe calls for 2 medium beets, I only had tiny ones, so I used 6.  They're scrubbed, then wrapped in aluminum foil.  After an hour in the oven, they're peeled, then tossed with (get this) MANGO and ORANGE!  Set on a plate of crisp greens and sprinkled with almonds and an absolutely stellar chili-lime vinaigrette.  I couldn't get enough!
So do I like beets?  No.  But I do like this recipe.  SO if you're someone like me – a beet hater – try this.  Beets once a year won't kill you.  And maybe, just maybe they contain some special vitamin you can't get elsewhere.  Like a "magical purple B."  I'm telling myself that anyway.
Adapted for a low sodium audience from Veg Kitchen with Nava Atlas.
Yields 4 servings.
SODIUM CONTENT: 25 mg per serving
INGREDIENTS:
Salad:
2 medium beets
1 orange, peeled, seeded and cut into bite-sized pieces
1 mango, peeled, pitted and diced
3 c. fresh spring greens
1/3 c. almonds, toasted and coarsely chopped
Vinaigrette:
3 T. freshly squeezed lime juice
1 T. apple cider vinegar
2 t. agave nectar
3 T. olive oil
1 t. Westbrae no salt added stoneground mustard, or equivalent
1 t. ground cumin
1/2 t. salt free chili powder
DIRECTIONS:
Preheat oven to 400 degrees.  Trim beets, then wash and wrap tightly in aluminum foil.  Place in oven and roast 1 hour.  Remove from oven and cool.  The skins should slip off – if not, gently peel them.  Cut the beets into bite-sized pieces.  (NOTE: Beets may be roasted a day ahead and kept wrapped and chilled in the refrigerator.)
Place beets in a bowl, add the diced orange and mango and toss well to combine; set aside.
In a small bowl, combine lime juice, cider vinegar, agave, olive oil, mustard, cumin and chili powder. Whisk until well combined.  (Makes about 1/3 cup of dressing, ample for salad plus leftovers.)
For salad, arrange greens on a platter or on individual plates. Top greens with diced beets, orange, mango and chopped nuts. Drizzle dressing on top and serve.