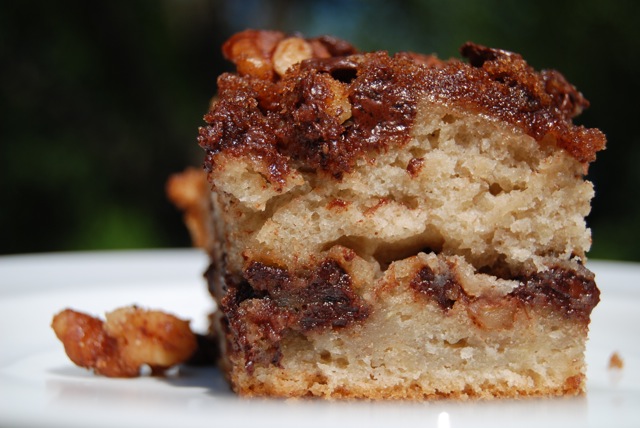 Although I've got a few more salads to wow you with, it's Friday and I need a treat. (Thank you, salads, for waiting patiently until next week.)
I stumbled upon this recipe looking for a new way to get rid of use a few overripe bananas. Although there wasn't a photo, the title drew me in. I am a sucker for streusel and spent many a childhood morning stripping crumbs off coffee cake. (My mom never appreciated this, but that's what you get when you have kids.) I printed out the recipe and got a-mashing. An hour later we were digging in.
VERDICT? This isn't some lame streusel. This is serious, cinnamon-scented, brown sugary heaven. And who likes chocolate? I DO!! And walnuts? Me, ME! And the cake? So MMMmmmmoist you won't believe it. Those brown stragglers (aka, overripe bananas) not only flavored the batter but rendered every bite of the baked cake bananalicious. In sum? One of the best coffee cakes I've ever baked, low sodium or not. This one's a Keeper.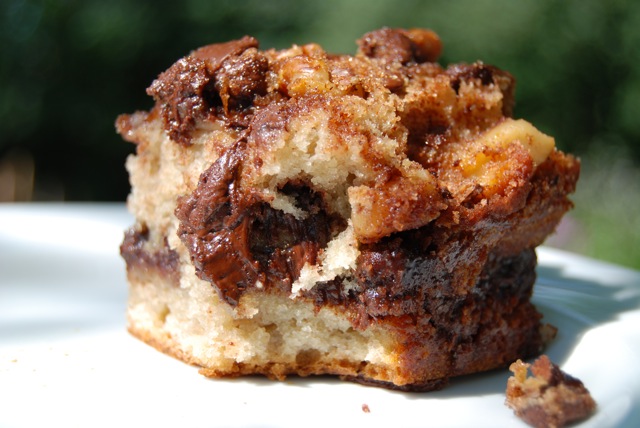 Adapted for a low sodium audience from Epicurious.com.
Yields 12 servings.
SODIUM CONTENT: 19 mg per serving
INGREDIENTS:
Streusel:
1 1/4 c. semisweet chocolate chips (about 8 oz.)
2/3 c. brown sugar
1/2 c. coarsely chopped walnuts
1 T. ground cinnamon
Batter:
3/4 c. sugar
1/2 c. vegetable oil
1 egg
1 1/3 c. mashed very ripe bananas (about 3 large)
6 oz. low fat vanilla yogurt
1 3/4 c. flour
2 t. Featherweight sodium-free baking powder (sold at Whole Foods markets and online)
DIRECTIONS:
Preheat oven to 350°F. Grease and flour an 8-inch square baking pan and set aside.
In a small mixing bowl, mix together the chocolate chips, brown sugar, walnuts and cinnamon; set streusel aside.
Using an electric mixer, beat the sugar, oil and egg. Beat in the mashed bananas and yogurt. Add the flour and baking powder and blend well.
Spread half the batter (about 2 cups) into the prepared baking pan. Sprinkle with half the streusel. Repeat with remaining batter and streusel.
Place pan on middle rack in oven and bake until tester inserted into center comes out clean, about 45 minutes. Remove from oven and place pan on wire rack to cool.