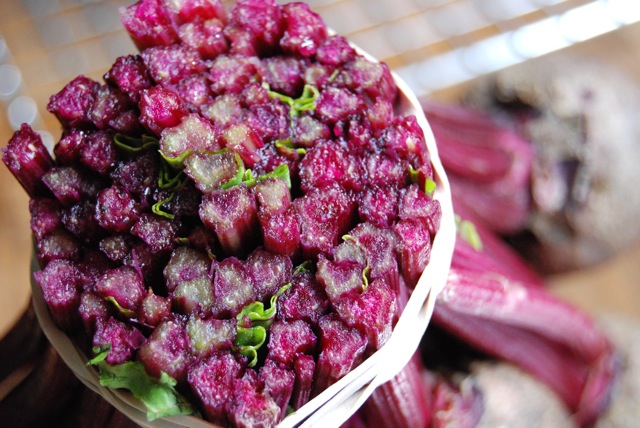 I'd be the first to admit, I hate beets. And when I say hate, I really mean I want to ship the world's beet supply to an impoverished nation far, far away. (I abhor wasting food.)
But when I was writing The Everything DASH Diet Cookbook I knew I'd have to include at least one beet recipe. There are, you see, some people who actually like or (dare I say it?) LOVE beets. As much as their soil-like flavor makes me gag, their sweetness is good. So how to celebrate that natural sugar, while masking their less desirable (to me) *dirt taste*?
After much deliberation, trial, and error, it finally hit me. SLAW! By shredding the beets and mixing with other veggies, I could in essence re-proportion their pungency. After several attempts, I concocted a recipe even beet-haters can truly enjoy. Shredded beets are combined with carrots, scallion, garlic, cilantro, and a lime vinaigrette. The resulting slaw is subtly sweet, spicy, and spectacular.
One last note. If you do not wish to have dyed hands for a day, I highly recommend wearing disposable gloves while making this. 🙂
Recipe from The Everything DASH Diet Cookbook.
Yields 6 servings
SODIUM CONTENT: 46 mg per serving
ADDITIONAL NUTRITIONAL FACTS (per serving):
Calories: 38
Fat: 1 g
Protein: 1 g
Fiber: 2 g
Carbohydrates: 7 g
Sugar 4 g
INGREDIENTS
3 small/medium beets
3 scallions, sliced
2 medium carrots, shredded
1/4 c. chopped fresh cilantro
2 cloves garlic, minced
Juice of 2 fresh limes
1 t. olive oil
1/2 t. salt-free chili seasoning (see recipe index if you need to make your own!)
1/4 t. freshly ground black pepper
DIRECTIONS
Trim and peel the beets, then shred. Place into a mixing bowl. Add the scallions, carrots, cilantro, and garlic, and stir well to combine.
In a small bowl, add the lime juice, olive oil, chili seasoning, and black pepper, and whisk well to combine. Pour the dressing over the salad and toss well to coat. Serve immediately or cover and refrigerate until serving.