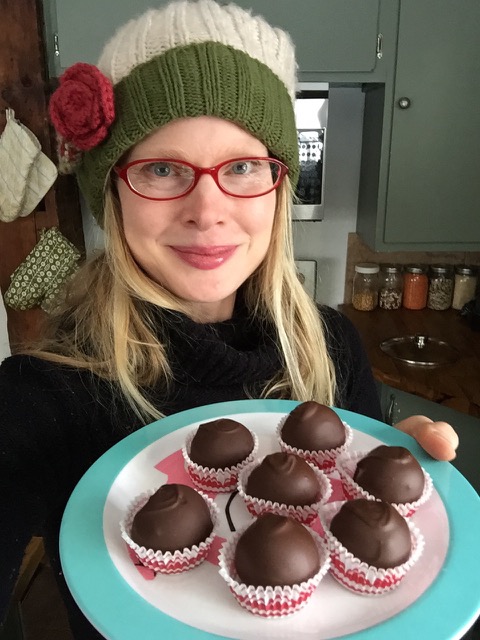 Good morning, everyone! And Happy (almost) Valentine's Day!
I know it's been a very long time since my last post. This 6-month hiatus has allowed me to catch up on all sorts of things, like laundry, dishes, attic insulating, wood stacking, and writing a follow-up cookbook. But more about that later.
Today I'm simply here to say MY RECIPE'S IN THE NEWSPAPER!! And I am totally stoked.
Chocolate Peanut Butter Truffles were first posted on The Daily Dish waaay back in (can you believe it?) 2007.  And now eight years later a vegan-ized version is appearing in the local press.  About time!  hahahah
Speaking of time, if you haven't already made something sweet for your sweetie, Valentine's Day is SATURDAY!  Good thing these delectable treats are SO EASY to make!  If you've got an hour to spare, you can whip up 2 dozen of the most amazingly delicious treasures – seriously, so much better than store-bought candy – to show that special someone how much you truly care.  Make their day – and yours – with the gift of chocolate.
Christy Ellingsworth's Chocolate–Peanut Butter Truffles
Standard creamy peanut butter works best here; natural peanut butter is too dry. It's easier to melt the chocolate in 2 batches to keep it as fluid as possible for coating the truffles.
Yields 2 dozen large truffles
2 cups sifted confectioners' sugar
3/4 cup creamy unsalted peanut butter
4 tablespoons vegan butter (such as Earth Balance), melted
1/2 teaspoon vanilla extract
2 cups (one 12-ounce bag) vegan chocolate chips
2 teaspoons canola oil
Line a baking sheet with waxed paper and set aside.
Measure the sugar, peanut butter, vegan butter and vanilla into a medium bowl. Stir well to combine; you may find it easier to abandon the spoon after the initial mixing and use your hands. Combining the ingredients while the butter is still warm also makes it easier to stir. Keep going until the mixture is completely smooth.
Roll the mixture into tablespoon-sized balls. (I use a small cookie scoop to measure the balls, then roll them gently in my hands.) Place the balls slightly apart on the cookie sheet. Freeze until firm, about 20 minutes.
Meanwhile, measure 1 cup chocolate chips and 1 teaspoon oil into a small pan or microwave-safe bowl. Melt the mixture, either over water on the stove, or in the microwave (heat 1 minute). Remove from heat and stir until smooth.
Remove the peanut butter balls from freezer. Carefully drop them (using a spoon), 1 at a time, into the chocolate, coating well. Then gently return each truffle to the waxed paper. Gently swirl the spoon while releasing it for a nice professional look and sprinkle with jimmies or other decorations, if you like.
The first cup of melted chocolate will coat half of the peanut-butter balls. Melt the remaining 1 cup chocolate chips with the remaining 1 teaspoon oil, and repeat the dunking process until all balls are coated. (You may have some chocolate left over. It's delicious drizzled over vegan ice cream as a chocolate shell.)
Place the sheet in the refrigerator until the chocolate coating has firmed and set. The truffles keep well in a cool place for up to 1 week or up to 2 weeks in the refrigerator. Serve chilled or at room temperature.
NOTE: The recipe as written is vegan. If you are not vegan and/or prefer using butter, substitute an equal amount of melted unsalted butter for the Earth Balance.  I use semisweet chocolate chips from Trader Joe's because happily they are vegan (!) as well as cheap (!) but you can of course use any chips your little heart desires, even white chocolate.  As stated in the article, these are NOT health food, but everyone deserves a treat once a year!  The nutritional information below is for the recipe as written above – butter will alter the cholesterol as well as sodium, fat, etc. HAPPY HEARTS DAY!