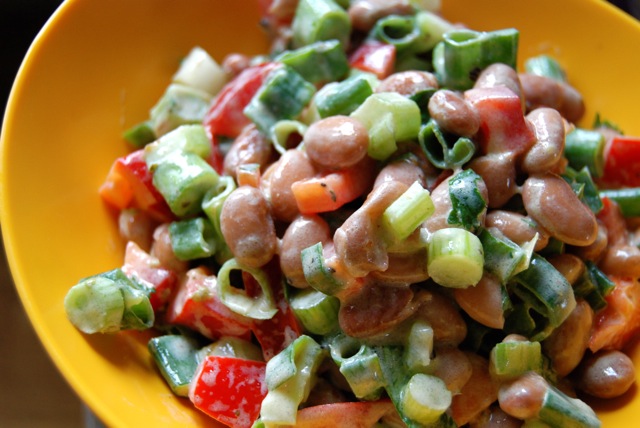 Today's recipe was adapted from Nava Atlas' American Harvest; a fabulous out-of-print cookbook I've borrowed time & again from the library. I love Atlas' creative approach to vegetarian cooking. Always something new to discover with each recipe, and her drawings are as incredible as her food. In honor of the warmest day we've had in a while, I decided first thing this morning we were going to grill. Never mind rain is threatening. I NEED TO SMELL CHARCOAL. This salad is the perfect warm weather side for a BBQ or potluck. It's different enough to stand out, much lighter than the usual bevy of mayo-laden whatsits, and it tastes great. I've used chopped cilantro because I LOVE the stuff, but if you don't, substitute fresh parsley instead. The combination of meaty pinto beans, scallion, the aforementioned cilantro and the tangy sour cream dressing is a great contrast in flavors. Piquant, subtly creamy, with a palate-refreshing quality that keeps calling me back for another bite. Try serving with Tequila Chicken.
Yields 6 servings.
SODIUM CONTENT: 26 mg per serving
INGREDIENTS:
2- 15-oz. cans no-salt-added pinto beans, drained and rinsed
2 stalks celery, finely diced
1 red bell pepper, cored, seeded and finely diced
1 bunch scallions, thinly sliced
3 T. chopped fresh cilantro
1/4 c. sour cream
2 t. Westbrae no-salt-added stoneground mustard
3 T. vegetable oil
2 T. apple cider vinegar
1 t. dried oregano
freshly ground black pepper to taste
DIRECTIONS:
Combine the pinto beans, celery, bell pepper, scallion and cilantro in a large mixing bowl and stir well. Measure the remaining ingredients into a small bowl and whisk well to combine. Pour the dressing over the salad and toss well to coat. Serve immediately, or cover and refrigerate until serving.