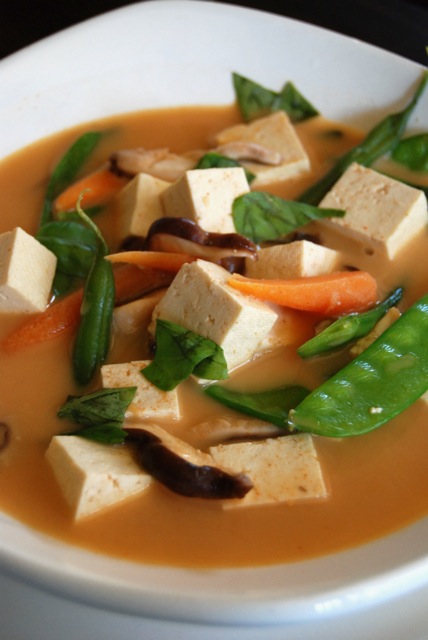 I LOVE finding new recipes to try, almost as much as finding money in the couch. It's the treasure hunter in me, the thirst for exploration that my life w/ Meniere's Disease doesn't otherwise allow. I spend hours each week pouring through recipes in the quest for (what I dub) The Chosen Few.  The dishes that speak to me, inspire and make me WANT TO COOK! Each one awakens something new inside, an otherwise dormant desire, a curiosity, a longing.  Whether it's an ingredient that grabs me, a cooking technique or a combination of flavors, I just KNOW when I find something special.
Today's soup (adapted from Real Simple Magazine) caught my eye several weeks ago, but had to be pushed to the back burner in lieu of last week's spring break clean-out.  Yesterday I made time to go to the market to pick up specific ingredients, and this morning found me once again in the kitchen.  There's something about eating soup for breakfast that speaks volumes about the quality of the dish.  I mean, I love soup but it's not something I ache for first thing in the morning, when a muffin or fruit smoothie is far more my speed.  But as soon as this simmering pot was pulled from the stove top and its contents ladled into a bowl, once its picture had been taken and the camera set aside, I literally inhaled the contents.  I've always loved Thai food, the fabulous freshness the cuisine always conveys, and this soup is nothing short of spectacular.  The lightness of the broth, with its undertones of citrus and coconut, the playful array of colors, the bite of the tofu and the snap of the peas, the meaty flavor of the shitake mushrooms, and more.  It's amazing.
The recipe as written is vegan/vegetarian, but I opted to use chicken broth, simply because I prefer the taste.  The market I frequent stocks several brands of Thai red curry paste.  Thai Kitchen had the lowest sodium of those available (at 390 mg/tablespoon).  If you know of a brand with less, let me know!
Yields 4 servings.
SODIUM CONTENT: 195 mg per serving
INGREDIENTS:
1 T. Thai red curry paste
1 t. grated fresh ginger
2 c. low-sodium vegetable broth (or low sodium chicken broth, if preferred)
1 14-oz. can light coconut milk
1/2 lb. shiitake mushrooms, stems removed and caps thinly sliced
4 oz. green beans, halved
2 medium carrots, peeled, halved lengthwise and sliced crosswise
1- 14-oz. pkg. extra-firm tofu, drained and cut into cubes
4 oz. snow peas
2 T. freshly squeezed lime juice
1/4 c. torn fresh basil leaves
DIRECTIONS:
Place the curry paste and ginger in a medium pan. Whisk in the broth and coconut milk and bring to a boil over high heat. Add the mushrooms, green beans and carrots to the pan and simmer just until tender, 5 minutes. Add the tofu & snow peas and simmer until the snow peas are bright green, 1 1/2 minutes more. Remove from heat. Stir in the lime juice. Sprinkle with the basil and serve immediately.