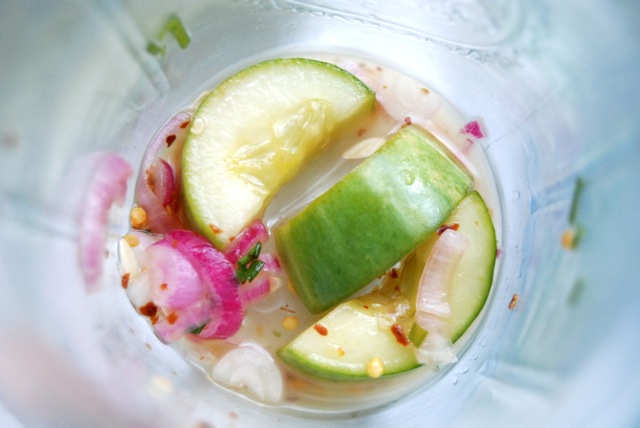 I joined Foodbuzz late last month and try to spend a little time daily on the site checking out what fellow foodies are cooking. I found today's recipe on Lighter and Local.com, a terrific blog written by a Bostonite who balances career and kitchen with aplomb. The recipe caught my eye not only because it sounded great, but also because it contained ZERO SALT!
I didn't have any pickling cukes in the house (we'd already made ours into pickles) but I did have some extra crispy regular cucumbers from Saturday's farmer's market. I hit the herb garden for some chives (check) and dill (nope). Our dill this season went south early on. Before blooming it looked almost burnt up and since the bloom it's completely faded away, like the salmon equivalent of the plant kingdom. I didn't feel like making the trek to the store or waiting to restock at our CSA, so I decided to just forgo it. And while I was at it, why not change the recipe a little more?
The recipe below differs quite a bit from the original. In addition to dropping the dill, I swapped rice vinegar in lieu of my current favorite: White Balsamic. White balsamic is a completely different animal than traditional (dark) balsamic vinegar. Light, sweet and fruity, it melds effortlessly without overpowering. Although tasty the first night, by the next day the "pickles" were OUT OF THIS WORLD. So do yourself a favor and let these bad boys marinate overnight.
Yields 4 servings.
SODIUM CONTENT: 4 mg per serving
INGREDIENTS:
2 medium cucumbers, sliced
1 small red onion, sliced
1 T. chopped fresh chives
1 T. sugar
1 t. crushed red pepper flakes
1/2 c. white balsamic vinegar
DIRECTIONS:
Combine ingredients in a bowl and toss until everything is well coated.
Cover and place in the refrigerator for at least 2 hours or overnight.
Serve and enjoy!