My family was visiting all last week.  Apart from hanging out and catching up, we did what every family does when they gather in Maine.  FORCED LABOR.  That's right; my family flew in to act as migrant workers on my behalf, toiling in the hot sun, being stabbed by thorns and enduring hours of itchy mosquito bites. And out of this Boot Camp: Dole House Style came 48 jars of the sweetest gold imaginable. Homemade Blackberry Jam.
Now that my family has left and the jars have settled, I find myself reminiscing over our time spent together. Laughing, hands dyed red from the softest berries, I only wish I'd captured the moment in photos. The only picture I do have? The one below of my husband looking elated to be wearing long sleeves in summer. Ahhh, blackberry picking.
If you've never made jam before, do not be intimidated. It is EASY (all caps)! You do not need a canner; the only equipment necessary is a large stock pot. We managed to make all 48 jars using the following:
2 stockpots (one for the fruit, one for boiling water),
a smaller stock pot (for more boiling water),
jars,
lids and rings,
pectin,
sugar
and the fruit itself.
That's it. The recipe below will yield seven (7) 8-oz. jars of jam. Adjust as necessary depending upon the amount of crushed blackberries. As a quick note: you'll need 1.4 cups of sugar for each cup of fruit. We used organic sugar to compliment our organic berries. A bit more expensive, but given the amount of effort involved, totally worth it. And the results..? Speak for themselves.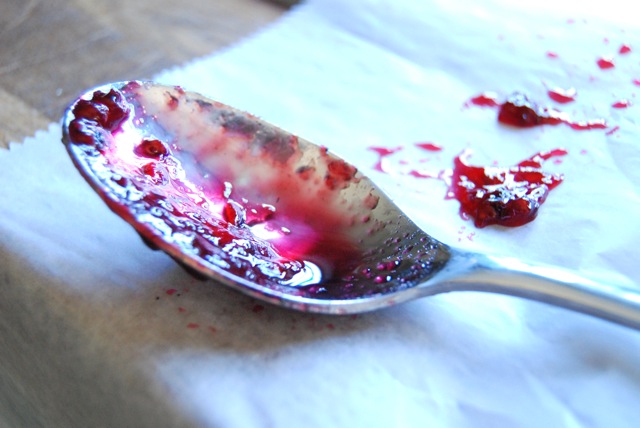 Recipe from Food.com.
Yields 7- 8-oz. jars.
SODIUM CONTENT: 17.3 mg per recipe; scant trace per 2 T. serving
INGREDIENTS:
5 c. crushed blackberries (do not puree, crush with a potato masher)
7 c. sugar
1- 1 3/4-oz. pkg. fruit jell pectin
DIRECTIONS: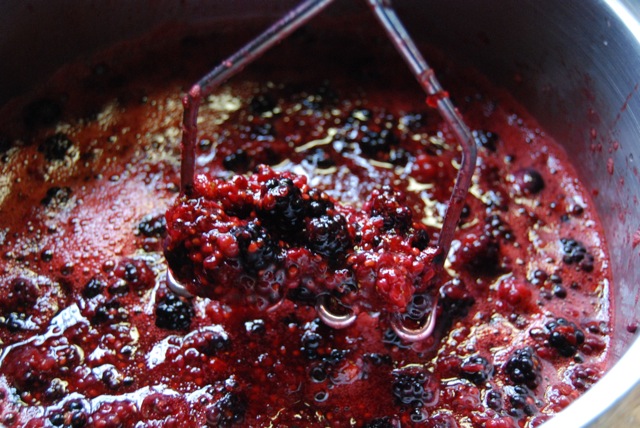 Place the blackberries in a large stockpot and crush using a potato masher. Once well mashed, cover the pot and set aside.
To sterilize the jars and lids, bring a large stock pot of water to a rolling boil. Using a pair of long tongs, place jars (several at a time) in the water and boil until sterile, 10 minutes. Remove and place upright on a clean towel. Repeat process with remaining jars, canning lids and rings, adding additional water to the pot as needed. Keep pot of water boiling while you prepare the jam, adding additional water as necessary.
To make the jam, carefully measure out the mashed berries and pour into a very large pot. Measure the sugar into a large bowl; set aside. Add the pectin to the berries a little at a time, stirring constantly. Once the pectin is incorporated, place the stockpot over high heat and stir the mixture constantly until it comes to a FULL boil.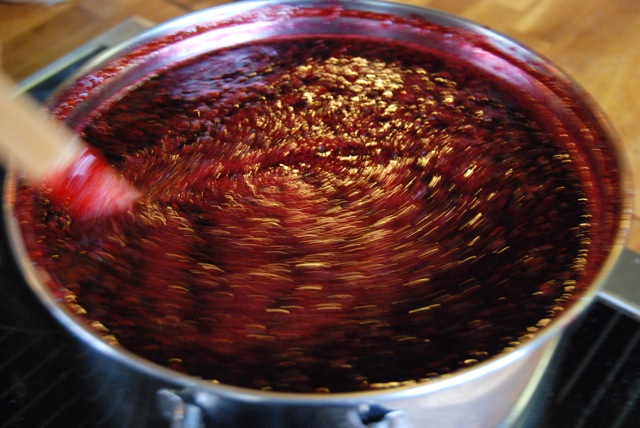 Once the mixture is boiling fully, add the sugar all at once, stirring to incorporate. Bring the mixture back to a full hard boil, stirring constantly, then boil for 1 minute.
Remove from heat and ladle into the clean jars, leaving 1/4 inch space at the top. Wipe the rim of each jar and put canning lids and rings on firmly tight. Place jars in the pot of boiling water, making sure water is 1 inch above jars. Process in boiling water bath for 10 minutes.
Remove jars from boiling water and set upright on a towel to set for 12 hours. ENJOY!!