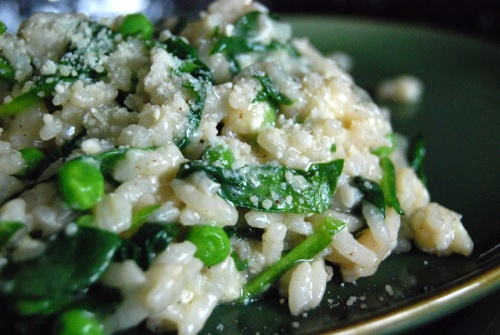 Christmas morning I got an email saying my mom had sent me a subscription to Real Simple magazine.  So I clicked the link and by the time I clicked back, lo and behold there was another message. Saying that my sister and brother-in-law had sent me a subscription to … REAL SIMPLE magazine!!  WOW! I must be the luckiest woman ever! I've gotten three issues so far and must say Real Simple is quite a spiffy mag. With lots of good tips and practical advice, it almost makes me want to clean. So far I have just looked at the photos of other people's nice clean homes, but then again, I'm a pretty hard sell.
Today's extraordinary salt free side was adapted from this Real Simple recipe. I'd never made a baked risotto before, but now that I have I don't want to go back to stove top stirring.  Talk about EASY!  You just toss everything together, pop into the oven and bada bing – it's done.  And talk about DELICIOUS.  There's something magical about the combination of flavors and textures in this risotto.  Even though it's super low in sodium, the wine and broth and cheese lend so much *taste* and that creaminess keeps you coming back for more.  For those concerned about the sodium in the Parmesan, simply reduce the amount of cheese or eliminate it altogether. It'll still be every bit as yum-tastic.  Really!
Yields 6 servings.
SODIUM CONTENT:  108 mg per serving
INGREDIENTS:
2 T. unsalted butter
1 shallot, chopped
freshly ground black pepper to taste
1/2 c. dry white wine
3 c. low sodium chicken broth
1 c. Arborio rice
1 c. (no salt added) frozen peas
2 c. roughly chopped fresh baby spinach (about 4 oz.)
1/4 c. grated Parmesan cheese (1 oz.)
DIRECTIONS:
Preheat oven to 425 degrees.
Melt the butter in a Dutch oven over medium-high heat. Add the chopped shallot and freshly ground black pepper to taste. Cook, stirring, until softened, about 3 minutes. Add the wine and cook, stirring, until almost evaporated, 2-3 minutes more. Add the broth and rice and bring to a boil.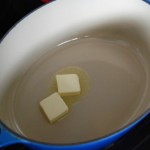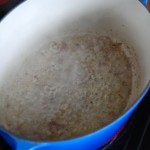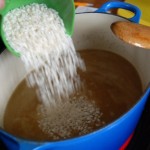 Once boiling, cover the pot and transfer to the middle rack in the oven. Bake 20 minutes, until the rice is tender and creamy. Remove from oven and add the peas, spinach and grated Parmesan. Stir well to combine. Season with additional ground black pepper to taste. Serve immediately.