Today's one dish recipe was one of three finalists in CHOW.com's Best Boneless, Skinless Chicken Breast Challenge. Of the three finalists, this was the only recipe both readily adaptable to low sodium cooking AND a complete package (meaning, a whole meal). As soon as I voted for it, I printed it out and made my way to the kitchen speedy quick. HOORAY!  Another simple, one pot meal for my (dun-dun-daaaah!) Dutch Oven!!  I was NOT disappointed.  The meaty breasts are first breaded in a salt-free seasoned flour, then browned to a golden crisp.  Because of this step they retain their shape (and yummy coating) during cooking, rather than simply falling apart like a stew.  The result is a sensational "best of both worlds" meal.  The tender-crisp veggies with herb-flecked broth bathe the succulent breaded breasts.  If it sounds amazing, that's because it IS.  Many thanks to Trey Moran for sharing!
Yields 4 servings.
SODIUM CONTENT: 161 mg per serving
INGREDIENTS:
1 c. flour
1 t. freshly ground black pepper
1 t. garlic powder
1 t. paprika
4 boneless, skinless chicken breasts
1/4 c. olive oil
1 medium onion, chopped
3 cloves garlic, minced
3 stalks celery, chopped
5 medium carrots, peeled and cut into 1-inch pieces
6 small potatoes, halved or quartered (depending on size)
1 T. Herbes de Provence
1/2 t. dried rosemary, crushed in hand
freshly ground black pepper to taste
1 1/2 c. low sodium chicken broth
DIRECTIONS:
Preheat oven to 375 degrees.
Measure the flour into a mixing bowl. Add the ground pepper, garlic powder and paprika, and whisk well to combine. Dredge the chicken breasts in the seasoned flour, coating each thoroughly.
Heat the olive oil in the Dutch oven over medium. Once oil is hot, add the breasts, two at a time, frying just until golden brown. You don't want to cook – just brown the outside. Remove from pot, place on towel to drain, and repeat with other two breasts. Set aside.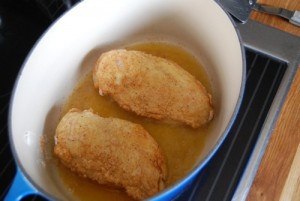 Once breasts are browned, add the onion, garlic and celery to the (now empty) pot. Cook, stirring, until softened, then add the carrots and potatoes to the pot and stir to combine.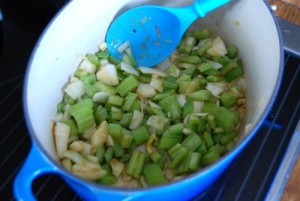 Place the browned chicken breasts on top, then sprinkle with the remaining herbs and freshly ground black pepper to taste. Pour the broth over top and cover with lid.
Place on the middle rack in the oven and bake, covered, 30-45 minutes, until the carrots and potatoes are soft. Remove from oven and serve immediately, plating each chicken breast with a generous portion of vegetables and large ladle of broth.