Love store-bought sweet potato chips? This homemade version is so good you may never buy them again. Just three ingredients, 30 minutes and you'll be snacking to your heart's content. These crisp little beauties aren't just lookers either, they're completely salt free with a boatload of REAL sweet potato taste. So save your gas $$$ and get slicing. Recipe adapted from CHOW.com.
Yields 2 servings.
SODIUM CONTENT: 9 mg per serving
INGREDIENTS:
1 medium sweet potato, scrubbed well
2 t. olive oil
1/2 t. paprika
DIRECTIONS:
Position two oven racks in the middle of the oven; preheat the oven to 350 degrees. Get out two baking sheets and set aside.
Slice the sweet potato into very thin rounds (roughly ~ 1/16th inch thick) using a mandolin or very sharp knife. Place slices into a mixing bowl, add the oil and paprika and toss until coated. Arrange the slices in a single layer on the baking sheets, close but not overlapping.
Place the baking sheets on the middle two racks in the oven and bake 8 minutes. Switch the baking sheet positions and bake another 7-8 minutes, until the edges of the slices begin to curl and the centers are golden brown & dry to the touch.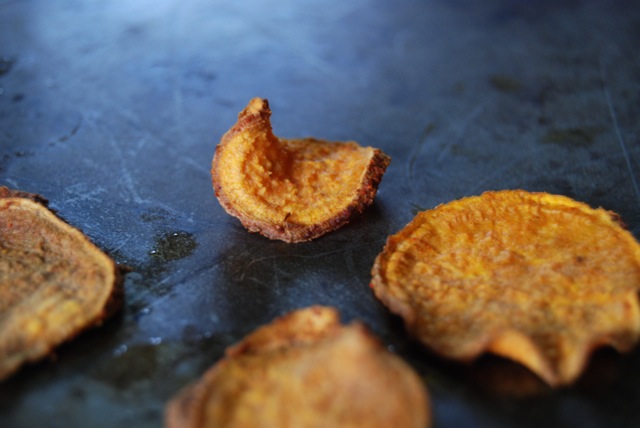 Remove baking sheets from the oven and place on wire racks. Cool for a few minutes before transferring to a bowl. Serve immediately or store in an airtight container for up to 3 days.