These veggie burgers have become my go-to meal when I don't have time to think about what to cook. They're almost as easy as opening a box of frozen veggie burgers, but with less sodium and no processing! Sandwiched in a bun with fresh spinach and thick-sliced ripe tomato, they're yum-yum-good. Plated with salad and no bun, they're still yummy.
The combination of nuts, beans, and vital wheat gluten gives these burgers a heft and chew that's irresistible. They're soft, yet firm; light, but filling. After being cooked, they have this crisp outer crust that gives way to an inner chew. Just try them, you'll see. Irresistible.
A few notes on ingredients. You can use regular canned beans if you can't find low-sodium, but rinse them extra well to remove as much of the salt as possible. Don't have black beans? Pinto or kidney work equally well. Like to make your own? Substitute 1.5 cups cooked beans for the 15-oz. can.
Use the lowest-sodium soy sauce you can find. This is an endless point of contention amongst low-so dieters, which brand is lowest, which tastes the best, etc. Go with what you like. Coconut aminos also work well here; the flavor is sort of "hidden" in the dough.
As for nuts, I've tried sunflower seeds, almonds, walnuts, cashews, mixed nuts, and a combination thereof in this recipe, and all have been tasty. Just be sure they're salt-free.
If you've never used vital wheat gluten before, you're in for a treat! Vital wheat gluten looks like flour, and feels like flour, but once it's incorporated with liquids, it becomes SO much more. It's what gives dough the dense chew we all love. Vital wheat gluten is sold online, at some supermarkets, natural food stores, Whole Foods, and baking specialty shops. I buy mine in bulk and keep it sealed in the freezer for longevity. **NOTE: If you have a gluten sensitivity, PLEASE do not make these burgers.**
One last note. I like my dough extra smooth and pliable, but if you prefer "chunks" in your veggie burgers, lighten that pulsing finger.
Adapted from Robin Robertson's Quick-Fix Vegan.
Yields 4 burgers.
SODIUM CONTENT: 171 mg per burger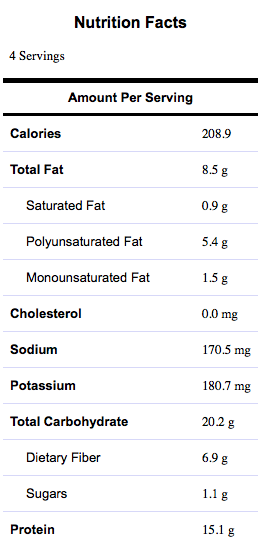 INGREDIENTS
1/2 c. unsalted sunflower seeds or other nuts (your choice)
1- 15-oz. can low-sodium black beans, drained and rinsed (or 1.5 c. cooked)
1 small onion, diced
2 T. low-sodium soy sauce
2 t. all-purpose salt-free seasoning
1/2 t. ground paprika
ground black pepper, to taste
1/3 c. vital wheat gluten (plus a little more, if necessary)
DIRECTIONS
Place the nuts into a food processor and pulse until finely chopped. Add the remaining ingredients, EXCEPT the vital wheat gluten, and pulse until smooth. Add the wheat gluten and continue processing until the mixture comes together to form a firm dough. The mixture should gather up and spin as a cohesive ball. Test the firmness with a fingertip. If the dough is still sticky or isn't coming together well, add a little additional wheat gluten (1-2 tablespoons) at a time until it firms up and is easy to handle. Once firm, remove the dough from the food processor and roll into a tight ball. Place on clean surface and cut in half, then half again, to form four equal wedges. Roll each fourth into a ball, then press to form a patty.
These can be cooked one of two ways.
In the oven: Preheat oven to 350 degrees. Line a baking sheet with parchment and arrange patties several inches apart. Place tray on middle rack and bake for roughly 12-15 minutes, then remove tray, flip patties, and return to bake another 12-15 minutes. To achieve a crisper crust, feel free to spray or brush lightly with oil before baking.
On the stovetop: Place a large skillet over medium heat and either generously spray bottom with oil or add oil to coat. Once heated, add patties and cook until brown and crispy, roughly 2-4 minutes. Flip onto second side and brown, another 2-4 minutes. Remove from pan, drain as necessary.
ENJOY!