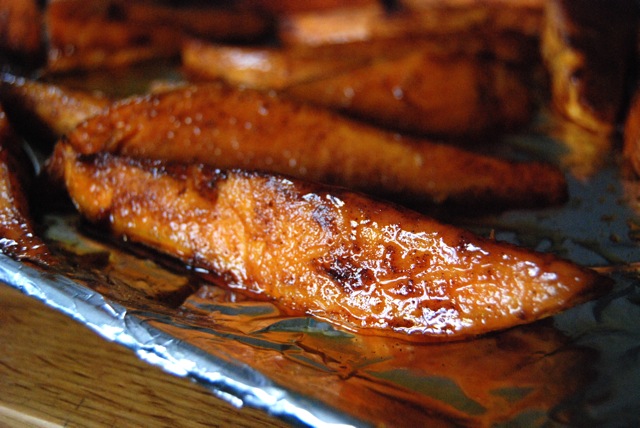 Sweet potatoes are often overlooked as "holiday fare" – something to be enjoyed certain times of the year and forgotten about the rest.  But I believe sweet potatoes are a staple we should all be embracing.  There is so much to love about these orange guys!  They're inexpensive and incredibly versatile, adapting to almost any type of cuisine.  They're supremely healthy, full of Vitamins A and C, beta carotene, and (best for us) SUPER low in sodium.  When buying sweet potatoes look for firm, orange flesh, free of soft spots or blemishes.  And at home, store them just like potatoes or onions, in a dark cabinet or drawer – NEVER in the fridge!
My family & I enjoy sweet potatoes year round, and I created this recipe as a "different" way of eating them that would be simple and appealing to all, even the kids.  The sweet potatoes are first peeled, then cut lengthwise into spear-like wedges.  After a quick toss with some olive oil, they're coated with a mixture of brown sugar, salt free chili powder and spices, and baked.  The resulting spears are sticky sweet, spicy and delicious.  I like cooking them until they're so flaccid, they practically fall apart and melt in your mouth, but if you prefer sturdier spears simply shorten the baking time.
Yields 4 servings.
SODIUM CONTENT:  23 mg per serving
INGREDIENTS:
1 1/2 lbs. sweet potatoes (about 3 medium)
3 T. olive oil
1/4 c. brown sugar
1 t. ground cinnamon
1/2 t. salt free chili powder
1/4 t. ground cumin
1/4 t. paprika
DIRECTIONS:
Preheat oven to 400 degrees. Line a baking sheet with aluminum foil and set aside.
Peel the sweet potatoes and cut in half lengthwise. Cut the halves lengthwise into spear-like wedges.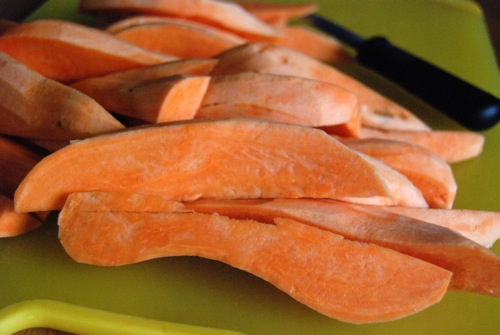 Place the wedges into a large mixing bowl, add the olive oil and toss well to coat.
Measure the brown sugar and spices into a small mixing bowl and whisk well to combine. Sprinkle the mixture over the oiled sweet potato wedges and toss to coat.
Place the coated sweet potato wedges on the foil-lined baking sheet. Place baking sheet on the middle rack in oven and bake 20 minutes. Turn wedges, then return to oven and bake until soft, 10-20 minutes more, depending upon thickness.
Remove from oven and serve immediately.