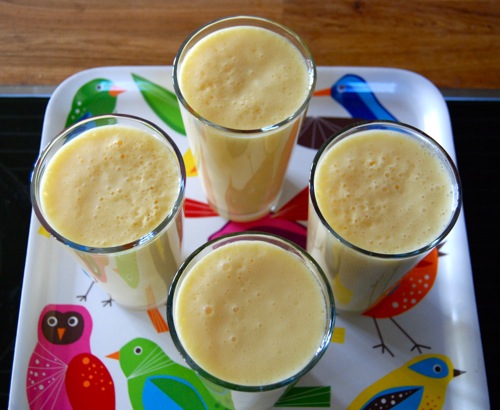 I'm not one to keep secrets. So when I fell in love with Stonyfield yogurt years ago, I let my feelings be known. Loyal readers of my personal blog (the OTHER Daily Dish) are likely chuckling, because I've written quite extensively of my yogurt devotion, even visiting the factory early last year. I hadn't known my love could grow any deeper, but when Stonyfield launched its "limited edition" Mango Honey yogurt, my heart nearly skipped a beat. These smoothies come together in seconds, are rich, frothy, creamy, thick AND delicious!! Bonus? They'll leave you full all morning long. Just 2 ingredients, so no excuses. This recipe can be doubled, tripled or (in our case) quadrupled.  Mango juice is often sold as a fruit juice blend – check the nutritional information carefully.  I buy my mango juice at a local Indian grocery – 0 mg sodium per serving! – but I've also found it in bulk at BJs and in standard quart containers at the supermarket.  Stonyfield Mango Honey yogurt is available at Whole Foods and many natural food stores.
Yields 1 serving.
SODIUM CONTENT: 110 mg per serving
INGREDIENTS:
1- 6-oz. container Stonyfield Farm Organic Low Fat Mango Honey Yogurt
1 c. mango juice (or mango juice blend)
DIRECTIONS:
Spoon the yogurt into a blender or food processor, then add the mango juice.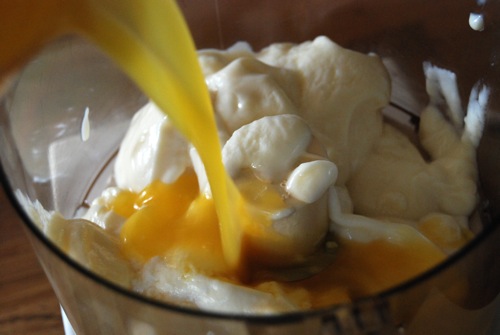 Put the lid on tightly and pulse until smooth.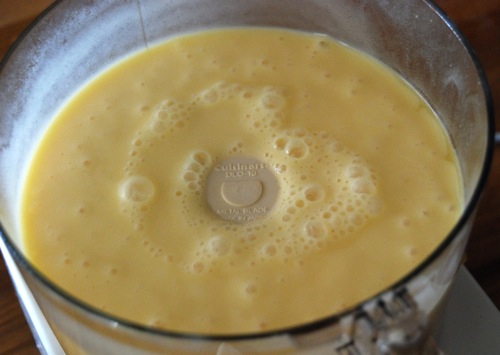 Pour into a glass and ENJOY!