It's raining today in Portland. I shouldn't complain, it's not SNOWING after all, but this morning I woke thinking of my best friend from high school. She lives halfway around the world now, in Hawaii. Although she's still sleeping and the sun's just coming up, I'm certain today will be as beautiful there as all the rest.  Having Meniere's I can't travel.  I've never been able to visit her home, couldn't even attend her wedding.  But thankfully I can use my imagination.  I picture my friend and I sitting on a sunny patio, drinking coffee, laughing and eating these muffins.  Like the beautiful islands of Hawaii, these are warm and tropical.  The soft vanilla-lemon crumb is dotted with juicy chunks of mango and chewy flecks of coconut, and the tops explode out of the tin with the sweet crunch of macadamia nut crumb.  Not quite volcanic, but enough to remind me that paradise is just a state of mind.  Happy weekend everyone.
Yields 6 jumbo muffins.
SODIUM CONTENT:Â  50 mg per muffin
INGREDIENTS
Batter:
2 c. flour
1 T. Featherweight sodium free baking powder
2/3 c. sugar
1 egg, beaten
1 c. low fat milk (or vanilla soy milk)
1/4 c. vegetable oil
1 t. pure vanilla extract
1 t. pure lemon extract
1 fresh mango, peeled, seeded and finely diced (about 1 1/4 c.)
4 T. shredded coconut
Crumb topping:
1/4 c. brown sugar
1/4 c. finely chopped unsalted macadamia nuts
1 1/2 T. flour
1/2 t. ground cinnamon
1 T. unsalted butter
DIRECTIONS
Preheat oven to 400 degrees. Grease a 6-cup jumbo muffin tin or line with disposable liners.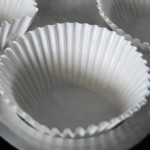 First make the crumb topping. Combine the brown sugar, chopped nuts, flour and cinnamon in a small mixing bowl. Cut the butter in with your fingertips, processing until it has the consistency of wet sand. Set aside.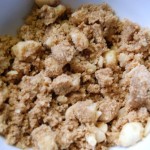 To make the batter, measure the flour, baking powder and sugar into a large mixing bowl and whisk well to combine. Add the egg, milk, oil and extracts and mix just until moist. Gently fold in the mango and coconut, stirring just until combined.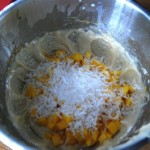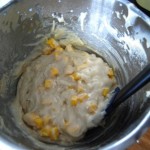 Fill the muffin cups about 3/4 full, then top with the crumb mixture, dividing evenly between the cups (about 2 T. each).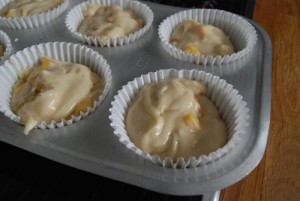 Place the pan on the middle rack in the oven and bake 25-30 minutes. Remove from oven and gently move muffins to a wire rack to cool fully.