I'm not a shallow person, but when it comes to eating I like my food to look pretty.  When you have to give up salt, you expect a little something MORE in the looks department, if you know what I'm saying. Plus I have kids. Kids make fun of everything and there's a reason kid friendly food all looks a certain way. Namely, not like "other stuff" (I'm talking to you, Refried Beans). Puerile humor aside, if food can't look good then it better taste FANTASTIC. Pot roast is one of those dishes teetering on the edge of ugly. Anything that spends hours simmering away is bound to lose color, texture and appeal, but what pot roast lacks in looks it certainly makes up for in flavor. Today's dish is my melding of the two; a low sodium recipe I concocted to not just taste great but look pretty too.  Thanks to the medley of veggies, it has an eye-catching array of color and unbelievably appealing flavor.  The long, slow cooking process leaves the meat falling-apart-succulent and juicy.  And the kale tossed in at the end lends a last bright splash and extra vitamins (but don't tell the kids).  When serving, be sure to plate the cooked food with an ample amount of broth and bake a batch of salt free Simple Bread Rolls ahead of time for dipping!

Yields 8 servings.
SODIUM CONTENT: 163 mg per serving
INGREDIENTS:
2 T. olive oil
1- 3-lb. beef rump roast
2 medium onions, halved and sliced
2 medium carrots, peeled and sliced into 1-inch rounds
2 stalks celery, sliced into 1/2-inch pieces (chop & add leaves too)
2 c. sliced fresh mushrooms
4 cloves garlic, peeled and sliced
1- 28-oz. can no salt added plum tomatoes, coarsely chopped, with juice
1/2 c. water
2 bay leaves
1 t. dried thyme
freshly ground black pepper to taste
4 c. chopped fresh kale
DIRECTIONS:
Heat the olive oil in a large saute pan over medium-high heat. Once the oil is hot, add the beef roast and brown well on all sides. Once brown, remove pan from heat and set aside.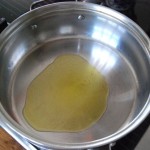 Combine all of the ingredients EXCEPT KALE in the slow cooker.  Place the browned beef roast on top.
Cover and set to high. Cook on high 5-6 hours. About 20 minutes before serving, add the kale. Cover and cook until wilted. Serve immediately.