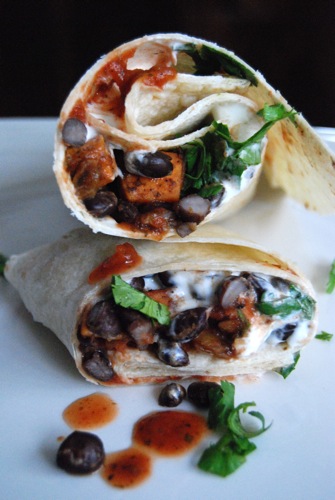 Monday.  It's still raining here in Portland and my ear is driving me NUTS. But you know what? My house smells divine and I just wolfed down the most AMAZING burrito I've eaten in forever.  Life ain't all bad.  Today's recipe is adapted from one of my favorite cookbooks, Simply in Season.  It's the perfect quick meal, from stove top to table in about 30 minutes.  The sweet potato and black beans are – for all their seeming incongruity, a match made in heaven.  The sauteed onion and fruit juice really bring out the sweetness of the pair, and when combined with the cumin, cinnamon and chili powder, it's like – well.. it's like a wedding party!  After everyone's loosened up with some champagne and now they're out on the dance floor.  You can't tell the bride's family from the groom's – they're all just one big mass of fun!  This incredible filling, tucked into the blanketing Lavash, dotted with spicy salsa and the bite of the cilantro & sour cream… OOOOooohh!!! It's just SO GOOD!!  I picked up the Lavash wraps at Whole Foods here in Portland.  They look like this: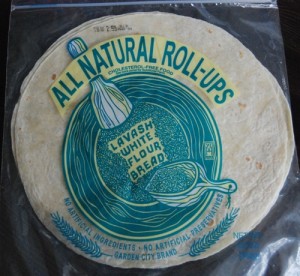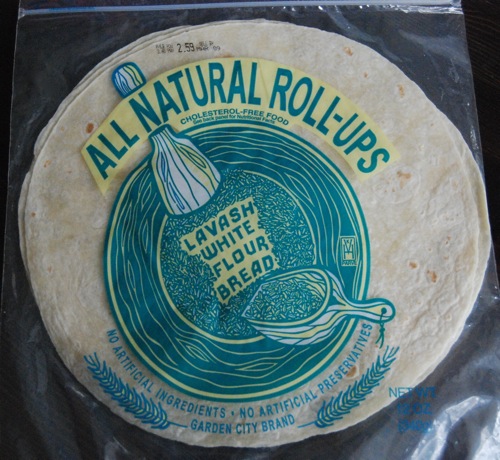 At only 40 mg of sodium per huge tortilla-like wrap, they are one of the VERY BEST THINGS I have found on this low sodium diet.  And they sell a low sodium whole wheat version too.  Look for them in the bakery department, stocked on the shelves with the bread, typically on an inconspicuous lower shelf.  If you don't see them, ASK.  I cannot stress how amazing these Garden City Lavash are – my kids even fight for them!  No Whole Foods nearby?  Trader Joe's sells low sodium lavash wraps, also stocked on the shelves with the packaged bread.  Theirs are rectangular and have a drier, less tortilla-like consistency than the Garden City Lavash, but good in their own right.  While at Trader Joe's yesterday, I picked up a jar of TJ's No Salt Added Fire Roasted Tomato Salsa (one of those I wrote about a year ago); still the best commercial salt free salsa I've found.  If you don't have a Whole Foods or Trader Joe's nearby, I suggest making homemade salsa and substituting corn tortillas for the lavash.  Different, but still delicious!
Yields 4 servings.
SODIUM CONTENT:  86 mg per serving
INGREDIENTS:
Filling:
1 T. vegetable oil
3 sm/med sweet potatoes, peeled and cut into 1/2-inch dice (about 3 c.)
1 small onion, peeled and diced (about 1/2 c.)
2/3 c. fruit juice (I like apple or mango)
1- 15 oz. can no salt added black beans, drained and rinsed
1 t. ground cumin
1/2 t. ground cinnamon
1/2 t. no salt added chili powder
freshly ground black pepper to taste
1 pkg. Garden City All-Natural Lavash Roll Ups (sold at Whole Foods markets) or corn tortillas
1/4 c. no salt added salsa
1/4 c. sour cream
1/4 c. chopped fresh cilantro
DIRECTIONS:
Heat the vegetable oil in a large saute pan over medium heat. Add the diced sweet potato and onion and cook, stirring, until tender, roughly 20 minutes. While cooking, add about 1/2 cup of the fruit juice, a tablespoon or two at a time, to prevent the mixture from sticking. Lower the heat to medium-low if the pan seems like it's getting too hot (and if so, simply extend the cooking time slightly).
Once the sweet potato is tender, add the black beans, seasonings and the remaining fruit juice. Cook, stirring, until beans are heated through, about 5 minutes.
Remove pan from heat and assemble the burritos. Lay a lavash wrap down flat, top with a quarter of the sweet potato-black bean mixture. Garnish with 1 quarter of the salsa, sour cream and cilantro.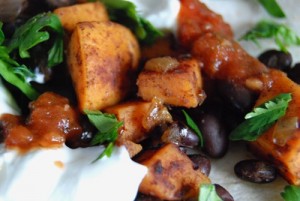 Fold ends towards the center, the roll from the other side up into a cylinder. Slice burrito in half using a sharp knife. Repeat process with remaining ingredients. Serve immediately.