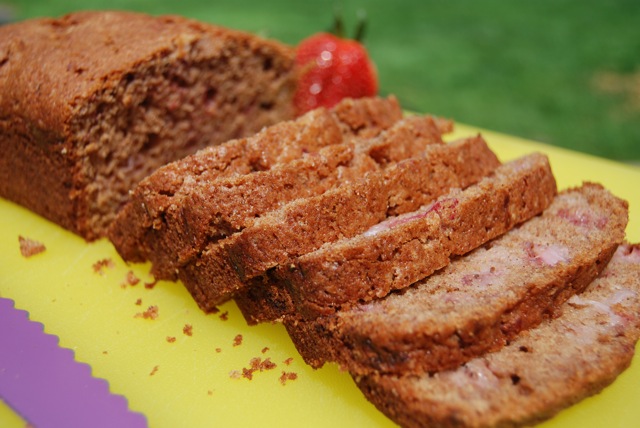 I have a confession to make. For most of my life I hated strawberries. I know, I KNOW! That's crazy! But it's true. Until very recently I couldn't stand the beautiful red buggers, and while my family inhaled them by the fistful I would turn my attention elsewhere. Perhaps it's the move to Maine that changed my mind. All I know is last summer, after going strawberry picking at Maxwell's Farm, I developed a taste for them. It wasn't the pick-your-own experience either; we'd done that before. I'm not sure it was even Maxwell's strawberries, though they're pretty unforgettable. More like my strawberry loving gene was magically turned on. Since then I have consumed enough strawberries to make any berry farmer proud, and now that the season is in full swing here, I am putting them in everything imaginable, including this amazing bread. I don't know about you but I LOVE quick breads! Just an hour baking time and POOF! Yummers. This low sodium adaptation uses Ener-G baking soda, which I've yet to find anywhere other than online. Do yourself a favor and wait to bake this until you have some. Standard Arm & Hammer baking soda can be used (1/2 teaspoon) but it'll add 30 mg sodium to every slice. As for the bread itself, HOLLA! Fabulous. Moist, with juicy bits of strawberry and and an irresistible cinnamon scent. If you like peanut butter and jelly sandwiches, which I most certainly DO, I highly recommend using some of this instead of regular bread – and you can even skip the jelly! Can you say super cute party snacks?!
Adapted from Simply in Season.
Yields 16 servings.
SODIUM CONTENT: 9 mg per serving
INGREDIENTS:
1 c. flour
1/2 c. whole wheat flour
1 1/4 c. mashed strawberries
3/4 c. sugar
2/3 c. vegetable oil
2 eggs
2 t. ground cinnamon
1 t. Ener-G sodium-free baking soda
DIRECTIONS:
Preheat oven to 350 degrees. Grease an 8-inch loaf pan and set aside.
Measure all of the ingredients into a large mixing bowl and stir just until combined. Pour batter into the prepared loaf pan. Place pan on middle rack in oven and bake 1 hour. Remove from oven and place pan on a wire rack to cool. Serve warm or at room temperature.