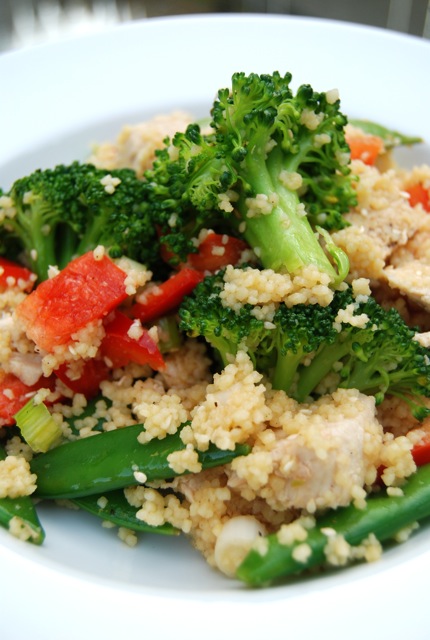 Today's low sodium salad is a cross between Chinese food and picnic fare; one taste and I know you'll be hooked! Adapted from perhaps my favorite cookbook of all time, Simply in Season, it takes advantage of faux soy sauce instead of the real deal. I've mentioned this before, but truly if you haven't tried this faux soy, prepare to be amazed. Although it tastes very little like soy on its own, when used in combination with other ingredients you'll never know it's FAUX! As for the dish, think 'Sesame Chicken' reinvented. The meaty breast meat is there, but instead of batter frying, you have light and fluffy couscous. Add in tender-crisp veggies, a savory lemon-sesame dressing and top with toasted sesame seeds. My family and I aren't pigs, but we devoured every morsel and longed for more. Next time I'm making double.
Yields 4 servings.
SODIUM CONTENT: 65 mg per serving
INGREDIENTS:
1 1/2 c. low-sodium chicken broth
3 t. faux soy sauce, divided (recipe below)
2 t. sesame oil, divided
1 c. plain uncooked couscous
2 scallions, sliced (green and white portions)
1 large red bell pepper, cored, seeded and diced
1 1/2 c. snow peas or sugar snap peas
1 c. broccoli florets
1 c. cooked chicken, cubed
juice of 1 lemon (about 1/4 c.)
2 T. olive oil
1/4 t. freshly ground black pepper
1 T. toasted sesame seeds
FAUX SOY SAUCE (adapted from Dick Logue's Soy Sauce Substitute)
1/4 c. molasses
3 T. rice wine vinegar
1 T. water
1 t. low-sodium or sodium-free beef bouillon granules
1/2 t. freshly ground black pepper
To make the faux soy sauce, measure ingredients into a small saucepan or microwave safe bowl and heat on low to combine. Store unused portion in an airtight container in the refrigerator for later use.
DIRECTIONS:
Measure the chicken broth, 1 teaspoon faux soy sauce and 1 teaspoon sesame oil into a saucepan. Bring to a boil over high heat. Once boiling, remove from heat, add couscous, stir and cover. Let stand 5 minutes. Remove lid and transfer cooked couscous to a bowl. Add the sliced scallion and diced bell pepper and stir well to combine.
Get out a stock pot with steamer insert. Place 2 inches water in the stock pot and bring to a boil over high heat. Put the peas into the steamer basket, and once water is boiling, place basket into the stockpot. Cover and steam 1 minute. Remove lid and add broccoli to the basket; replace lid and steam 2 minutes more. Remove from heat. Rinse peas and broccoli under cold water and drain. Add peas and broccoli to the couscous mixture, along with the cubed cooked chicken.
Measure the lemon juice, olive oil, 2 teaspoons faux soy sauce, 1 teaspoon sesame oil and 1/4 t. freshly ground black pepper into a small mixing bowl and whisk well to combine. Pour over the couscous mixture, add the toasted sesame seeds and mix well to combine. Serve immediately or cover and refrigerate until serving.