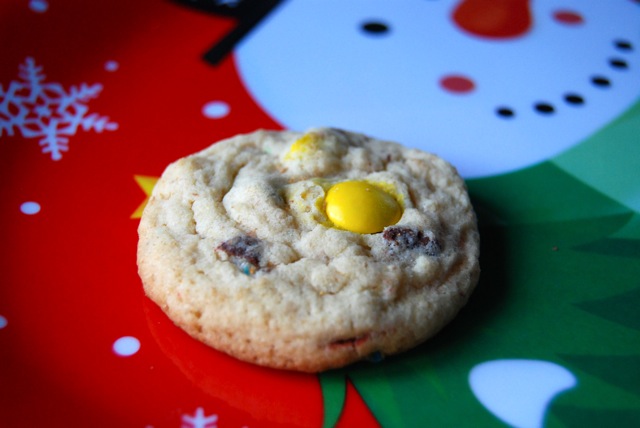 Welcome to The Daily Dish 3rd Annual Holiday Bake-Off!
Cookies AND candy? Yes, please!! Today's prize-winning recipe comes courtesy of Amber N. who writes about low-sodium life at Organically Nerdy. These cookies originated with one of Amber's great aunts and she fondly recalls devouring them as a child. I can understand why. Though the recipe contains only basics: butter, flour, eggs, it's the M&M's that truly make these cookies special. Adding them early in the beating allows them to pervade the batter, yielding amazing flavor and yes, even a little crunch. Just before baking, press an intact M&M (or three) into the top of each cookie for extra pizazz.
Yields 4 dozen cookies.
SODIUM CONTENT: 10 mg per cookie
INGREDIENTS:
1 c. (2 sticks) unsalted butter
2 eggs
1/2 c. sugar
1 c. brown sugar
1 c. M&M's
2 1/4 c. flour
2 1/4 t. Featherweight sodium-free baking powder
DIRECTIONS:
Preheat oven to 350 degrees. Get out a baking sheet and set aside.
Beat butter and eggs in a large mixing bowl. Add the white and brown sugars, then the M&M's. Stir well, then add the flour & baking powder and mix until combined.
Drop by tablespoonfuls onto an ungreased baking sheet. Place baking sheet on middle rack in oven and bake 9-10 minutes.
Remove baking sheet from oven and transfer cookies to a wire rack to cool.
Store in an airtight container.