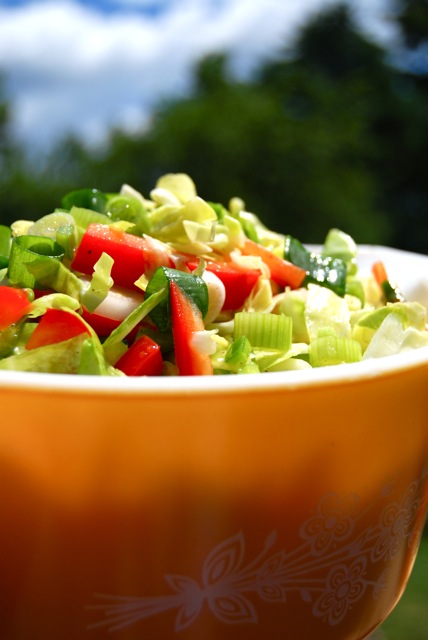 A recent issue of Cook's Illustrated showcases their Best Sweet and Tangy Coleslaw. Although I've never met a coleslaw I didn't like, I couldn't resist the suggested southwestern variation. Coleslaw with a KICK??!  Heck YEAH!  Here, classic elements – celery seed, carrot and mayo, are forsaken in favor of minced jalapeño, thinly sliced red bell pepper and a citrus vinaigrette. It's a tantalizing twist on tradition, as pretty as it is lip-smacking-ly tasty. And lest I forget to mention, it's also super duper low in sodium. (But when something tastes this good, you may forget to mention it, too.)
Yields 6 servings.
SODIUM CONTENT: 28 mg per serving
INGREDIENTS:
1/4 c. apple cider vinegar
2 T. freshly squeezed lime juice
2 T. vegetable oil
1/4 t. freshly ground black pepper
1 medium head green cabbage, cored and shredded (about 6 cups)
1/4 c. sugar
1-2 jalapeño peppers, seeded if desired and minced
1 medium red bell pepper, cored, seeded and sliced thinly
2 scallions, thinly sliced (green and white portions)
DIRECTIONS:
Measure the vinegar, lime juice, oil and black pepper into a large mixing bowl and whisk well to combine. Cover bowl and place in freezer to chill 15-30 minutes.
Place the shredded cabbage into a microwave safe bowl. Add the sugar and toss to combine. Cover the bowl and microwave on high 1 minute. Remove bowl, stir briefly and recover. Microwave another 30 seconds or so, until cabbage is slightly wilted and has reduced in volume by roughly a third. Carefully drain excess liquid.
Remove vinaigrette from freezer. Place the drained cabbage into the bowl, along with remaining ingredients and toss well to combine. Cover and chill at least 15 minutes before serving.