My older daughter recently celebrated her eleventh birthday. My family has always enjoyed an over-the-top idea of birthday celebrations, typically indulging in not one cake, but two, three, sometimes even FOUR. This most recent celebration was no exception. I posted about the Sunshine Cake I baked Maddie for her birthday. But what I failed to disclose were the others. The "Chocolate Truffle Bomb" we enjoyed at her slumber party, the 2 dozen red velvet cupcakes I baked for her celebration at school, and the post-birthday chocolate ganache wonder purchased from Whole Foods. Quite a lot of cake for one eleven year old and her all-too-willing family. So what happened after all this cake was consumed (apart from us all having to loosen our pants)? Well.. it was kind of a letdown, like after Christmas when you look around and there're no more presents to open. A week passed and we all started wondering WHEN'S THE NEXT CAKE?! So I baked this one. It was only right; we had a leftover Guinness from St. Patty's Day and they don't keep forever you know. Today's recipe was adapted from Fine Cooking magazine and got such rave reviews I just HAD to try it. And trust me, you will want to too. The cake is dark and complex, thanks to the toasty stout and molasses, and the glaze adds just the right richness. It kept wonderfully on the counter, loosely covered, for a few days, though don't be surprised if it disappears far quicker.
Yields 16 servings.
SODIUM CONTENT: 31 mg per serving
INGREDIENTS:
1 1/4 c. stout beer, such as Guinness (don't include the foam when measuring)
1/3 c. dark molasses (not blackstrap)
1 2/3 c. flour
3/4 c. unsweetened natural cocoa powder (NOT Dutch-processed); more for the pan
1 1/2 t. Featherweight sodium free baking powder
1 t. Ener-G sodium free baking soda
1 1/4 c. unsalted butter, softened at room temperature; more for the pan
1 1/2 c. packed light brown sugar
3 eggs, at room temperature
6 oz. semisweet chocolate, finely chopped
For the glaze:
3/4 c. heavy cream
6 oz. semisweet chocolate
DIRECTIONS:
Preheat the oven to 350 degrees. Grease a bundt pan (or twelve 1-cup mini bundt pans) and then lightly coat with cocoa powder; tap out any excess.
In a small saucepan over high heat, bring the stout and molasses to a simmer. Remove the pan from the heat and let stand while preparing the cake batter.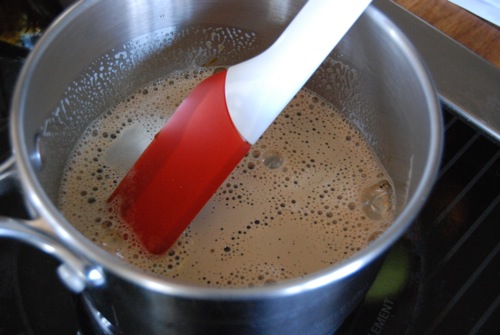 Sift together the flour, cocoa powder, baking powder and baking soda.
With a stand mixer (use the paddle attachment) or a hand mixer, cream the butter in a large bowl on medium speed until smooth, about 1 minute. Add the brown sugar and beat on medium speed until light and fluffy, about 3 minutes. Stop to scrape the sides of the bowl as needed.
Beat in the eggs one at a time, stopping to scrape the bowl after each addition. With the mixer on low speed, alternate adding the flour and stout mixtures, beginning and ending with the flour.
Stop the mixer at least one last time to scrape the bowl and then beat at medium speed until the batter is smooth, about 20 seconds. Stir in the chopped chocolate. Spoon the batter into the prepared pan (or pans), spreading it evenly with a rubber spatula. Run a knife through the batter to eliminate any air pockets.
Bake until a wooden skewer inserted in the center comes out with only a few moist crumbs clinging to it, 45 to 50 minutes (about 35 minutes for mini cakes). Set the pan on a rack to cool for 20 minutes. Invert the cake onto the rack and remove the pan. Let cool until just barely warm.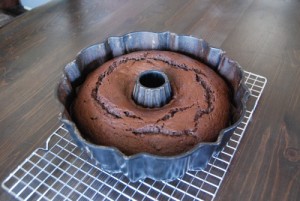 Make the glaze. Bring the cream to a boil in a small saucepan over high heat. Remove the pan from the heat and add the chocolate. Let stand for 1 minute and then whisk until the chocolate is melted and smooth. Let cool for 5 minutes.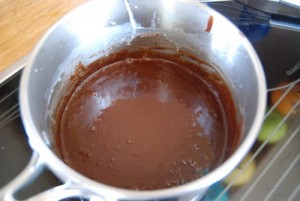 Drizzle the barely warm cake with glaze and then let cool to room temperature before serving.