Blame it on yesterday's Pi Day celebration.  All across the internet, all day long, I was subjected to pie after pie after delectable pie.  So today I resolved to BAKE ME SOME PIE.  I did my research before delving headfirst into custard and meringue.  Good thing too, because one read through this recipe and I knew something was fishy.  Hmmm.  Friends, as strange as it may seem, even the best food websites do make mistakes. In this case, the Food Network. When they posted this Alton Brown recipe someone made a grave error, and if you follow the directions as written, all you will achieve is a lovely lemon soup.  Fortunately, I caught wind of this prior to starting (one good reason to READ COMMENTS!) and if you follow my directions below you will in fact create a luscious lemon meringue pie. What better way to celebrate an unconventional holiday one day late than with the queen of custards!  Lemon meringue reigns supreme among low sodium desserts, especially this time of year, and I'm thinking of baking this again at Easter.  It's like the taste of spring.. sunny yellow citrus sandwiched between flaky crust and sweet fluffy clouds.  OOOohhh!!! For this pie you will need one pre-baked crust. Click here and follow Simply Recipes easy step-by-step instructions. Just skip the salt & you've got a perfect crust!
Yields 8 servings.
SODIUM CONTENT:  37 mg per serving
INGREDIENTS:
1- 9-inch pre-baked pie crust
Meringue:
4 egg whites
1/8 t. cream of tartar
2 T. sugar
Custard:
4 egg yolks
1/3 c. cornstarch
1 1/2 c. water
1 1/3 c. sugar
3 T. unsalted butter
1/2 c. freshly squeezed lemon juice (juice of 2 lemons)
1 T. finely grated lemon zest (zest of 2 lemons)
DIRECTIONS:
Preheat oven to 375 degrees.
Place egg whites & cream of tartar in a stand mixer bowl. Attach the whisk beater and beat mixture until soft peaks form. Gradually add in the sugar and continue beating until stiff peaks form. Set meringue aside.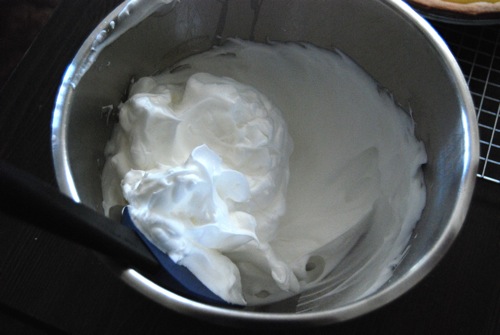 Whisk egg yolks in medium sized bowl and set aside.
Measure cornstarch, water and sugar into a saucepan and whisk to combine. Place saucepan on the stove over medium heat. Bring to a boil, stirring frequently. Once mixture begins to boil, let boil steadily 1 minute, stirring briskly.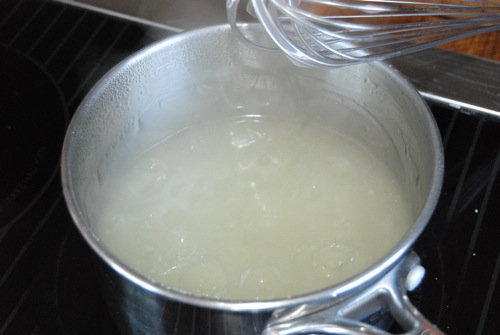 Remove from heat and gradually, a whisk at a time, add the hot mixture to the egg yolks.
Keep stirring whisk-fulls in until at all of the mixture is combined.  Return egg mixture to the saucepan.
Turn the burner down to low and cook, stirring constantly, until the mixture has thickened considerably, roughly 10-15 minutes.
Remove from heat and whisk in the butter.  Once the butter is completely incorporated, stir in the lemon juice and zest, mixing until well combined.  Pour the filling into the pre-baked pie shell.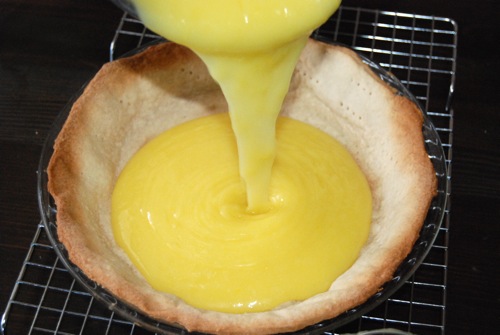 Top with meringue while filling is still hot.  Use a spatula to spread meringue completely over the top, making sure it goes right to the edge of the crust.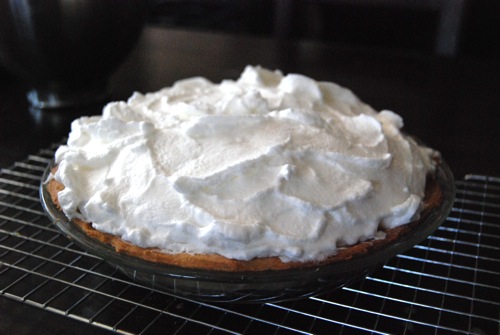 Place the pie on the middle rack in the oven and bake 10-12 minutes, or until meringue is golden.  Remove from oven and place pie on a wire rack to cool.  Cool fully before slicing.