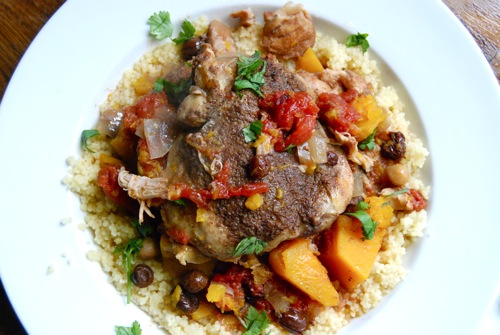 Tagine, or tajine, is a North African stew traditionally composed of meat, vegetables and seasonings, cooked in a clay pot (also called a tagine) with a special cone-shaped lid.  The photo below shows a line of multicolored tagine pots, with hues so reflective of the actual dish above, I just had to share.
Although I've yet to acquire a real tagine pot, a very similar result can thankfully be achieved using a slow cooker.  In the case of this recipe, the long simmering process leaves the chicken absolutely succulent, falling from the bones, and the Moroccan-inspired broth, with its bits of onion and garlic, soft chunks of tomato and squash, bathes the couscous with the warm flavors of cumin, coriander and cinnamon. It's a one-dish meal with so much taste you won't believe it's low sodium!  Further proof that some of the most flavorful cooking is achieved by low, slow simmering, and that by creative use of spices (here both familiar and exotic), you truly won't miss the salt.  Many thanks to Christina for sharing the original dish from Good Housekeeping, and Kim, who wanted MORE slow cooker recipes! XO
Yields 6 servings.
SODIUM CONTENT: 229 mg per serving
INGREDIENTS:
1 medium (roughly 1 1/2 lb.) butternut squash, peeled, seeded and cut into 2-inch chunks
1- 28-oz. can no-salt-added tomatoes, coarsely chopped (with juice)
1 medium onion, chopped
4 cloves garlic, peeled and minced
1- 15-oz. can no-salt-added garbanzo beans, drained and rinsed
1 c. low sodium chicken broth
1/3 c. raisins
2 t. ground coriander
2 t. ground cumin
1/2 t. ground cinnamon
1/4 t. freshly ground black pepper
3 lbs. bone-in skinless chicken thighs
1- 10-oz. box plain couscous
2 T. chopped fresh cilantro
DIRECTIONS:
Place squash, tomatoes with juice, onion, garlic, chickpeas, broth and raisins in the slow cooker and stir to combine.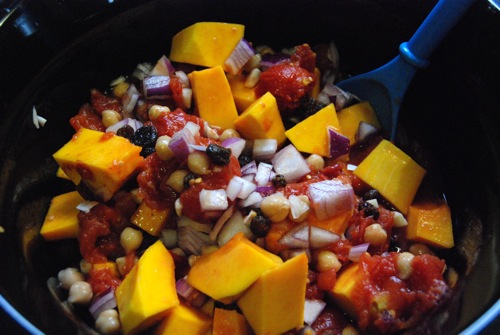 In a small bowl, combine the coriander, cumin, cinnamon and black pepper.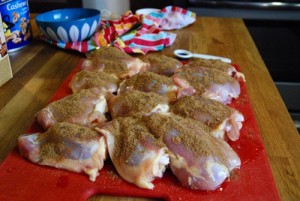 Rub spice mixture all over the chicken thighs, then place the chicken on top of the vegetables in the slow cooker.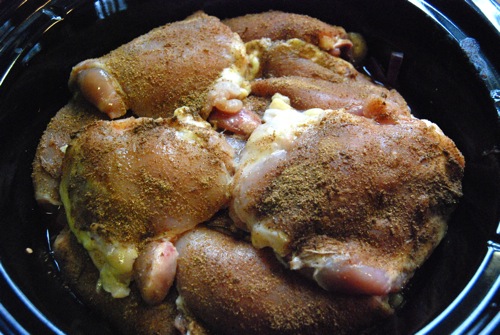 Place lid on slow cooker and cook on low for 8 hours, or high for 4 hours. 10 minutes before serving, prepare couscous as instructed on package. Serve tangine on a bed of couscous, garnished with fresh cilantro.