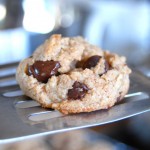 Daily Dish Readers!
As much as the colorful photos above are appealing when you're browsing this site and trying to select what you'd like to cook, these same photos can be less-than-appealing (and far-from-eco-friendly) when it comes to PRINTING said recipes for use in the kitchen.  Wasting pages of paper, when a single sheet of ingredients and directions is all you really need, is a royal pain in the printer.  But no more!
I'm thrilled to announce a NEW and improved "Print Friendly" feature on The Daily Dish.

Simply scroll to the bottom of each recipe (and YES, every single dish has been updated), click the green button, and voila!  Print Friendly. You can also save recipes as PDFs or email. And in the off-chance you'd like to add the photos back in, you can do that too.  YAY!
It took two VERY tedious days to update all of the recipes – almost SIX HUNDRED of them! – but I'm so happy to finally have this functionality.  And I hope you all are too.
Feel free to show some love through a comment below or a secure donation through PayPal.
MANY THANKS for your continued support!
Christy